Guardia Civil have detained a family in Alicante, who have been targeting and robbing holiday homes in the north of the province.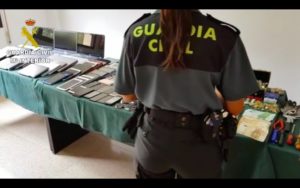 They have committed more than thirty robberies, using vehicles that they found in the properties to remove the stolen effects.  The ringleader and father of the other two men alleged thieves, had a previous record for similar events.
Alicante – August 22 / 2018.– Guardia Civil have arrested three men of Algerian origin (two of them with Spanish nationality), aged 26, 28 and 54, as alleged perpetrators of fifty crimes of robbery with forced entry, 6 counts of vehicle theft, 3 counts of car registration plate theft, several crimes pertaining to falsification of documents and also for belonging to a criminal organisation. The investigation is still open and it is possible that even more crimes may be attributed to them.
It has taken the Civil Guard a few months to catch this band of organised criminals who confined their activities to properties in coastal areas, all of them being holiday homes, where the owners spent long periods of time away.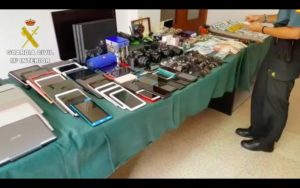 Agents of the Civil Guard of Calpe and Benissa were alerted and investigated some of the robberies that had occurred in Calpe, Benissa, Moraira and we believe, Benitachell, when one of the members of this family, with numerous previous records, was seen by a witness in the vicinity of one of the affected homes.
IF YOU HAVE BEEN ROBBED ( IN ANY AREA) GO THIS THIS PAGE WHERE YOU CAN SEARCH AND LOOK THROUGH THE ITEMS THAT THE GUARDIA CIVIL HAVE RECOVERED