Just to make a change from the usual news this week – some trivia, love stories and what some children think about the annual day of Love and Hugs …..
In 1537, England's King Henry VII officially declared Feb. 14th the holiday of St. Valentine's Day.
In Shakespeare's play Romeo and Juliet it is said that they lived in Verona Italy. Every year thousands of Valentine's Day cards are sent to Verona addressed to Juliet.
Valentine's Day is the second most popular day of the year for sending cards. Christmas is the first most popular..
"My boyfriend and I met online and we'd been dating for over a year. I introduced Hans to my uncle, who was fascinated by the fact that we met over the Internet. He asked Hans what kind of line he had used to pick me up. Ever the geek, Hans naively replied, 'I just used a regular 56K modem.'" — Contributed by Anne McConnell
The oldest known Valentine's Day card is on display at the British Museum in London. It's dates back to the 1400's.
Pope Gelasius declared February 14, St. Valentine's Day around 498 A.D.
The grumpy old married couple had been arguing all day, and they got to their usual boiling point….."You know what, sweetheart," said the grumpy old man to his wife. When you die, I'm going to put on your tombstone a little phrase: "Cold, as always."…."Ok, sweetie" replied the grumpy old wife. "When you die, I'm going to put on your gravestone a little phrase too: "Stiff at last."
Some may believe that birds have nothing to do with romance, but in fact, legend has it that if a woman spots a winged creature on February 14, it will predict the type of man she will marry. Note – No seagull there!!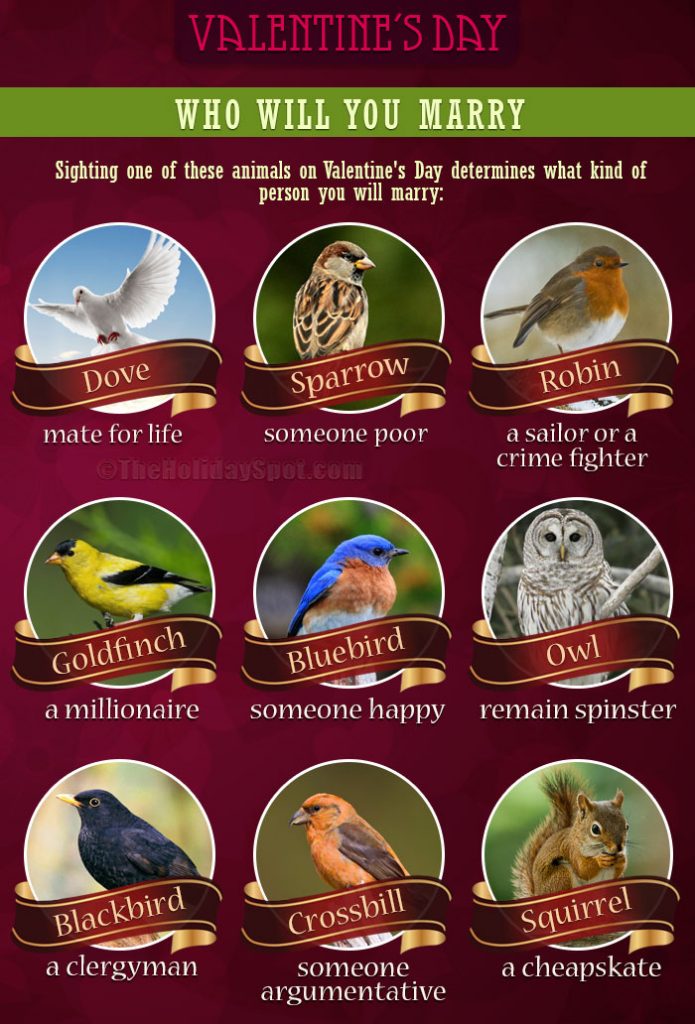 If you see a squirrel on Valentine's Day, you will marry a cheapskate who will hoard all your money.
In the Fourteenth Century, a sweetheart was chosen for the day by lot. Messages sent between these randomly chosen pairs are believed by some sources to be the forerunner of the modern day Valentine card.
Now let's hear from the children on the subject of love and marriage.
 HOW DO YOU DECIDE WHO TO MARRY?  
"No person really decides before they grow up who they're going to marry. God decides it all way before, and you get to find out later who you're stuck with." Kirsten, age 10
WHAT IS THE RIGHT AGE TO GET MARRIED?  
"Twenty-three is the best age because you know the person FOREVER by then." Camille, age 10
HOW CAN A STRANGER TELL IF TWO PEOPLE ARE MARRIED?
"You might have to guess, based on whether they seem to be yelling at the same kids." Derrick, age 8
WHAT DO YOU THINK YOUR MUM AND DAD HAVE IN COMMON? 
"Both don't want no more kids." Lori, age 8
 WHAT DO MOST PEOPLE DO ON A DATE?
"Dates are for having fun, and people should use them to get to know each other. Even boys have something to say if you listen long enough."  Lynnette, age 8
"On the first date, they just tell each other lies, and that usually gets them interested enough to go for a second date." Martin, age 10
WHAT WOULD YOU DO ON A FIRST DATE THAT WAS TURNING SOUR?
  "I'd run home and play dead. The next day I would call all the newspapers and make sure they wrote about me in all the dead columns." Craig, age 9
WHEN IS IT OK TO KISS SOMEONE?
"When they're rich." Pam, age 7
 "The law says you have to be eighteen, so I wouldn't want to mess with that."  Curt, age 7
IS IT BETTER TO BE SINGLE OR MARRIED?
"I don't know which is better, but I'll tell you one thing. I'm never going to have sex with my wife. I don't want to be all grossed out." Theodore, age 8
  "It's better for girls to be single, but not for boys. Boys need someone to clean up after them." Anita, age 9
"Single is better, for the simple reason that I wouldn't want to change nappies. Of course, if I did get married, I'd just phone my mother and have her come over for some coffee and nappy-changing." Kirsten, age 10
 HOW WOULD THE WORLD BE DIFFERENT IF PEOPLE DIDN'T GET MARRIED?
"You can be sure of one thing – the boys would come chasing after us just the same as they do now." Roberta, age 7
HOW WOULD YOU MAKE A MARRIAGE WORK? 
"If you want to last with your man, you should wear a lot of sexy clothes, especially underwear that is red and maybe has a few diamonds on it."  Lori, age 8
"Tell your wife that she looks pretty even if she looks like a truck." Ricky, age 10