Skating rink and Santa's House
As in previous years, from now until January 8th, the Denia skating rink will be open. The price for 30 minutes is 3 euros per person. Schedules can be found on Twitter (@BaleariaPort) and Facebook (@baleariaportdenia).
In addition, the little ones will be able to pick up a letter at the shipping company ticket office to leave their Christmas wishes in a mailbox for Santa and the Wise Men, as well as a photo-shoot, in the La Casa de Santa Claus installed in the port station.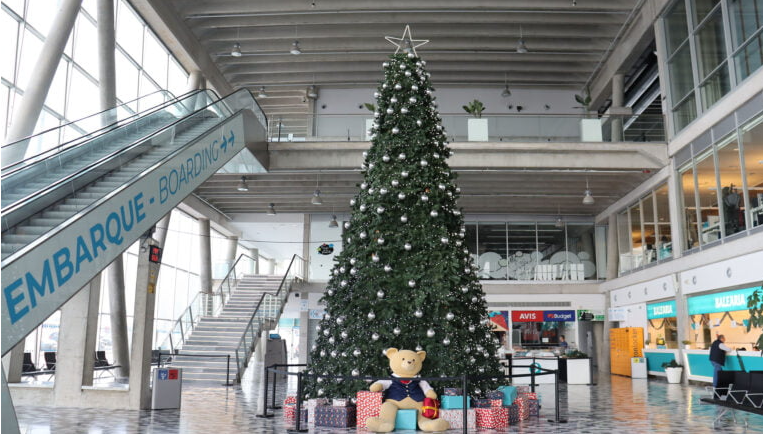 Christmas concerts in the l'Androna Multiespai room
Foundation Baleària has organized two Christmas charity concerts for the month of December in the l'Androna Multiespai room. The first concert will be on Wednesday, December 14th by the Dénia Tenor Cortis Music Conservatory, and on Tuesday the 20th you will be able to enjoy the performance of the Cor del Conservatorio de València.
In both concerts, admission is free until full capacity is reached, and non-perishable food will be accepted for the program Baleària Solidarity.
Recycled and solidarity toys
From December 5th to January 10th, in Baleària Port an exhibition with original and sustainable toys made with recycled plastic collected from the seabed and from the shipping company's ships, among others, will be open to the public. The objective of this exhibition is to raise awareness, in a creative and artistic way, about the use of plastics and the pollution they cause. The toys have been created by a craftsman from the Planeta Tapón project, who will carry out toy workshops in the Els Magazinos gastronomic market, in Dénia.
The workshops last half an hour, and the price is 5 euros per child. From 11.00 to 14.00 and from 16.30 to 20.30 pm .The money raised from the workshops will go to an association with projects linked to the preservation of the marine environment.