Nanny M's Mobility & E-bike Rentals
Nanny M'S is a one-stop-shop for all of your e-bike and mobility needs.
We specialise in a range of electric bikes and mobility items such as rise recliners, home care, daily living aids, walking aids powered mobility products, e-bikes, batteries and so much more.
At Nanny Ms every customer is treated like an extended family member. We at Nanny Ms pride ourselves on customer service, providing you with the freedom you deserve. Free NO OBLIGATION home demonstrations. If you don't see what you are looking for contact one of our friendly family members today. It's our pleasure.
Discover the towns in the most comfortable, entertaining and ecological way. With a minimum effort you can travel miles and miles. You'll see how even the steepest slopes are easily negotiated. All our bikes are of the highest quality and have all the necessary extras to make your ride unrepeatable. Come visit us without any commitment.
All electrically powered
No emissions
Special rates for Spanish residents
No licence needed
Family discount for e-bikes: A family of 4 or more - 25% discount rent for a week 10% off e-bikes.
Low Season Rates
1 DAY          35.00
2 DAYS        70.00
3 DAYS        80.00
4 DAYS        90.00
5 DAYS        95.00
7 DAYS      100.00
Ride in style with our Harley Davidson themed scooter or any of our 4 wheel all terrain vehicles. Travelling at up to 8 mph and able to cover up to 50 km on one charge 200 euros for a week and less thereafter.
BUSINESS HOURS:-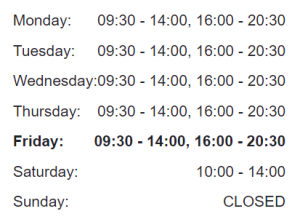 Nanny M'S es una tienda para todas sus necesidades de bicicletas eléctricas y movilidad reducida, nos especializamos en una gama de bicicletas eléctricas y artículos de movilidad reducida, como sillones reclinables, bastones con agarradera, cuidado del hogar, ayudas para la vida diaria, productos para la movilidad con dispositivos para caminar, bicicletas eléctricas, especialistas en baterías y mucho más. En Nanny Ms, cada cliente es tratado como un miembro de la familia. En Nanny Ms nos enorgullecemos del servicio al cliente y le brindamos la libertad que se merece. Demostraciones gratis sin ningún compromiso. Si no ve lo que está buscando, comuníquese hoy con uno de nuestros familiares amigos. El placer en atenderle es nuestro.
Carretera Moraira a Calpe, 223, Teulada

,

Teulada

03724
Returning user? Please log in or register in this submission form.
Add Review to "Nanny M's Mobility & E-bike Rentals"