Aarushi Yoga
Aarushi Yoga
I am Usha from Aarushi Yoga.
When I was born at sunrise my mum asked my Indian Grandmother if there was a word for dawn in her native language and that's where Usha came from.
Aarushi was derived from my name, the meaning 'awakening of the sun', and it is connected to Kundalini Yoga as this practice awakens our Kundalini energy. This is done by a combination of movement, breathwork, mantra, deep relaxation, and meditation.
I have been practicing yoga for 10 years when I decided to become a yoga teacher. I initially trained in Hatha and Vinyassa Yoga before I discovered Kundalini Yoga and that's when I had my 'wow' moment and realised that this was the practice I meant to share. I completed training in kundalini and also specialised in Kundalini for pregnancy. For me, I believe it is the Mother of all yogas as the technology of the practice really works in shifting any blockages we have.
Each class is unique and my passion and love for music comes into my classes. The classes are uplifting yet bring a sense of pure relaxation as we work on balancing our chakra system and this in turn leaves us feeling calm and chilled.
I teach on a Thursday morning at the Javea Yoga Studio in the port at 9.45am and on a Saturday morning at 8am outside restaurante Tango right at the end of the port overlooking the sea.
Contact me for more details of my classes - details below.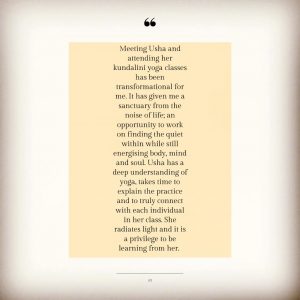 Calle Santisimo Cristo del Mar 29

,

Xàbia

03730