Make A Smile
WHO ARE "MAKE A SMILE"?
Make A Smile is a registered charity that helps and supports local children and disadvantaged youngsters in the community. The charity was set up by local business owners Tony & Lucy Grande to provide food and other essentials during the financial crisis primarily to the local children's homes. Now Make A Smile is concentrating on educational projects to help the youngsters gain skills before they have to leave the homes at 18. They also raise funds for extras like outings, summer school/camp, extra clothing and school supplies amongst many other things.
Rather than rattle buckets, Make A Smile believes in being pro-active when it comes to fundraising and providing for the needs of the youngsters by creating  various projects such as:
The Recycle Project that takes in unwanted clothes, brick-a-brack and furniture, restores/washes and puts the surplus up for sale at auctions, pop-up shops and fairs and our own Charity shop. With no financial outlay, the Recycle team managed to raise €35,700.00 in 2016 from the community's unwanted items. This money is converted into necessities  for the homes.
Amigos de Make A Smile Charity Shop. The Charity shop opened its doors in July 2017 and has been a huge success with locals and expats from up and down the Costa Blanca. Run by volunteers, the shop is packed with a huge array of items including kitchenware, new and second hand clothes, books, dvds and much more
Pennies From Heaven, which takes in small coins (the dusty ones in little pots that are sitting on everyone's dressers), which are sorted and banked once a month.
Fundraisers. The fantastic volunteers from up and down the coast give up their valuable time to run coffee mornings, parties in bars, dancing marathons and stalls at large fairs amongst many other events to get the word out and sell donated items.
All Make A Smile's projects raise funds that go directly to the children. By working with the Carers (house mothers) the exact needs of the children are met with no wastage. The charity is run totally by volunteers so that every penny of funds raised benefits the children.
For more information about Make-A-Smile, their events and how you can help their "warriors".....visit their website or call the number below.
Make A Smile
G-54763040
The Bed Centre
CC Biblos, Local 8
Urb. Los Pinos 1K
03710 Calpe
Office: 965 836 814
Voip  : 0207 096 0082
BANK DETAILS
Make A Smile
Caixaltea
Av. Madrid, 12
03710 Calpe
ES28 3045 2664 3127 2000 4924
CCRIES2A045
Paypal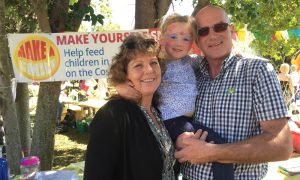 Local 8, Centro Comercial Biblos, Urb. Los Pinos, 1K, 03710 Calpe, Alicante

,

Calpe

03710
Returning user? Please log in or register in this submission form.
Add Review to "Make A Smile"