Javea Feral Cat Association
Javea Feral Cat Association
Javea Feral Cat Association.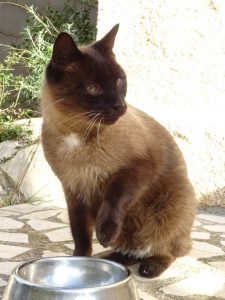 Our mission is to reduce the number of kittens born to feral cats in the Javea area and to keep the feral cat population as healthy as possible.
There are lots of ways you can help:
1.Make a donation at one of our collection points r by bank transfer ( see below)
2.Put a collecting tin in your shop/bar business
3.Help us by joining our regular feeding teams in the Javea area
4.Make a small regular monthly donation
5.Volunteer
6.Fundraising
If you wish to make a direct bank transfer, please contact Liz on (00 34) 96 646 1166 for bank details.
What does your money do? Veterinary costs take up the majority of the money that we collect in donations. Although our wonderful vet, Rosa, keeps the cost of the operations and blood tests as low as possible, it nevertheless costs a great deal of money to treat the cats. Whenever we can, depending on volunteers, female cats are kept confined for up to a week to enable the wound to heal before being returned to the community.
You can also help Liz by joining her Facebook group Javea feral Cat Association
Returning user? Please log in or register in this submission form.
Add Review to "Javea Feral Cat Association"