Help via HELP of Marina Alta and Project 4
"We are members of the Mesa Solidaridad in Calpe and have filled a van load going to Poland this week with Project 4 All. We are asking for donations vía our HELP account too and have received approx. 1000 so far"
You can donate by bank transfer to Help of Marina Alta….

ES11 2100 9015 2102 0016 2933
CAIXA BANK
CIF G03814753

Candy tells us – "One of my girlfriends is going to Poland to work with the children next Tuesday to help keep them busy with games and play. She will be then letting me know first hand what to buy to go on the next delivery. Things like underwear, baby milk powder, nappies, women's essentials and whatever they request. One of the drivers is crossing into Ukraine itself!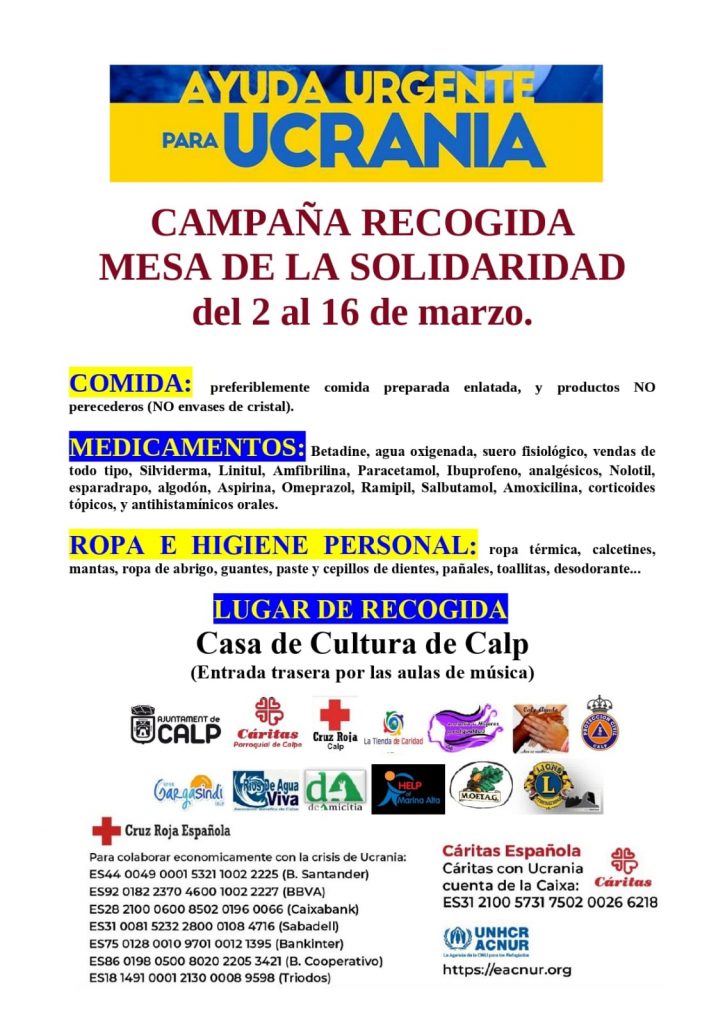 Help via Javea City Council and associations.
TO DONATE TO ORGANISATIONS PRESENT IN THE CONFLICT AREA
RED CROSS https://www2.cruzroja.es/-/ayuda-crisis-ucrania
UN Agency for Refugees www.eacnur.org
UNICEF Global Warfare Program: www.unicef.es
CARITAS www.caritas.es
SAVE THE CHILDREN www.savethechildren.es
2. LOCAL COLLECTIONS AND COLLECTIONS
BENEFIT EXHIBITION. From Monday 7th to Thursday 10th March several local artists will be installing at the Lambert Arts Center (41 Major Street) a charity exhibition. Hours are 5pm to 9pm. All exhibited work will be for sale to raise funds to assist refugees (to be managed through the Red Cross).
HOSTING Several people have arrived in Javea in recent days – especially women and children fleeing the war and have already been welcomed home by relatives or friends. The City Council is also managing options to offer accommodations to potential refugees who may arrive in the coming days, whether a municipal hostel or private homes or rooms are available.
The Department of Housing will draw up a list with the resources that may be available. If you want to offer (full house or room) you can contact at email [email protected]
If you want to offer (full house or room) you can contact at email [email protected]
ATTENTION UKRAINIANS DISPLACED TO XABIA.
APPLY FOR ASYLUMINTERNATIONAL PROTECTION (ASYLUM) can be applied for at border posts, airports and international ports.Within the Spanish territory, it is managed in the National Police Station, Authorized Foreign Offices, and in the OAR (Asylum and Refuge Office).
If you are in Javea and need to apply for asylum for a newly arrived family you have to address the Foreign Office of the National Police of Dénia (Castell d'Olimbroi street number 5) and phone 965783851
**IMPORTANT: An appointment must be requested for each family member or partner who wishes to apply for international protection.**For detailed information, guidance and assistance in the processing, the Valencian Generalitat has a free office and telephone number (900404403), within the ATLAS (Migration and Refuge) program.
APPLICATION FOR MUNICIPAL AID SOCIAL EMERGENCY.
In case of needing EMERGENCY SOCIAL AID – request it to Javea Town Hall via the Social Centre(Calle Rafael Echagüe 5 or phone 965 79 41 42)3.
OTHER HELPING ORGANISATIONS
XABIA RED CROSS Avenue of Alicante, 12. Phone: 965 79 19 61
CARITAS PARISH OF THE SEA C. Floor X, 9. Phone: 965 79 12 86
SAINT BARTHOLOME PARISH CHARITY 10th Avenue of Alicante
Help in Val de Pop
"Val de Pop Ukrania" is The Costa Blanca's resources and community page for Ukrainians affected by the war. Our goal is provide a central hub for coordination of resources including food, clothing, housing, physical and mental health, pediatrics and more.
Millions of Ukrainians are trying to find refuge during this time of crisis and we are adamant to support them in their search. We aim to create a database of transitional housing options, as well as, volunteer services across the Vall de Pop region.
If you are willing to help host a family from the Ukraine or volunteer any services at all, please fill out this form and we will connect you with those seeking refuge.
Click the photo – it will take you to the website.

Visit the website HERE
The Karunawa Charity Shop in Javea Park is a joint venture between Spread some Sunshine and Arne Project4. They are the only charity shop in Javea that sells children's clothes, so they will be involved in that when refugees arrive. They are also a drop off point.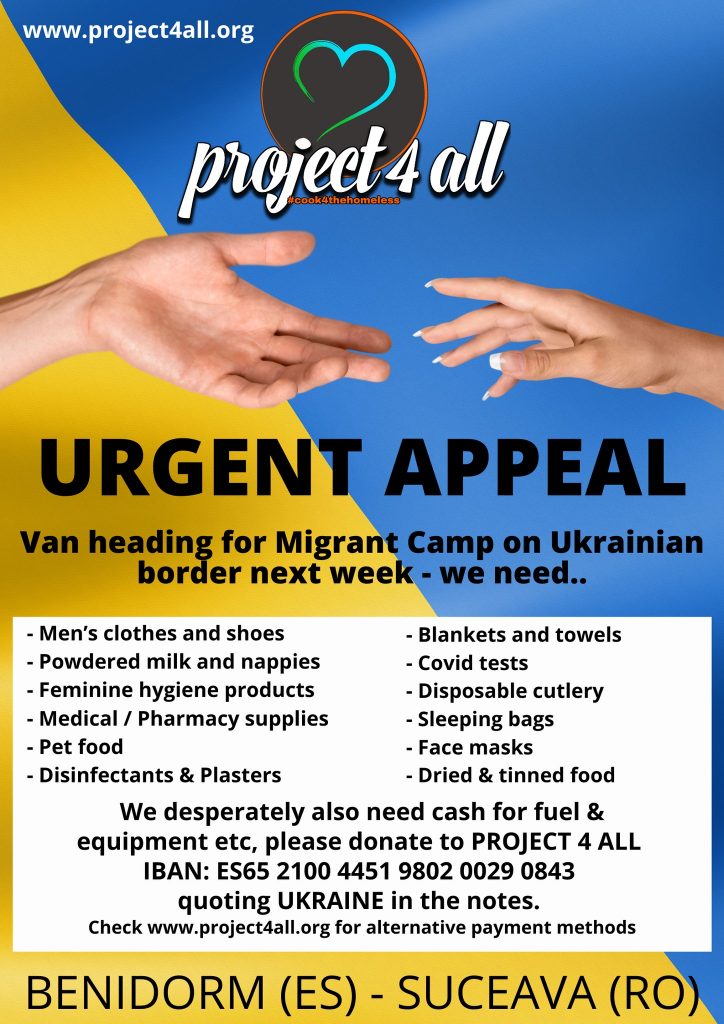 Help for Ukranian Refugee Children at GCS easy Education
If any families with children come to the area, it would be super to have them in our daytime sessions at GCS-Easy – Easy Education we'll keep them busy and help them meet some friendly faces. There will be no cost! Just need to find the best day for them to go along – all our kids LOVE new friends.
Help direct by donating to Ukraine's National Bank
NBU Opens Special Account to Raise Funds for Ukraine's Armed Forces
1 Mar 2022 10:34
The National Bank of Ukraine has decided to open a special fundraising account to support the Armed Forces of Ukraine. Just in case anyone wants to support Ukrainian army directly.This is the official site created by the National Bank of Ukraine. More that 10 billion of Ukrainian gryvnas has been donated so far ( as at 6.3.22)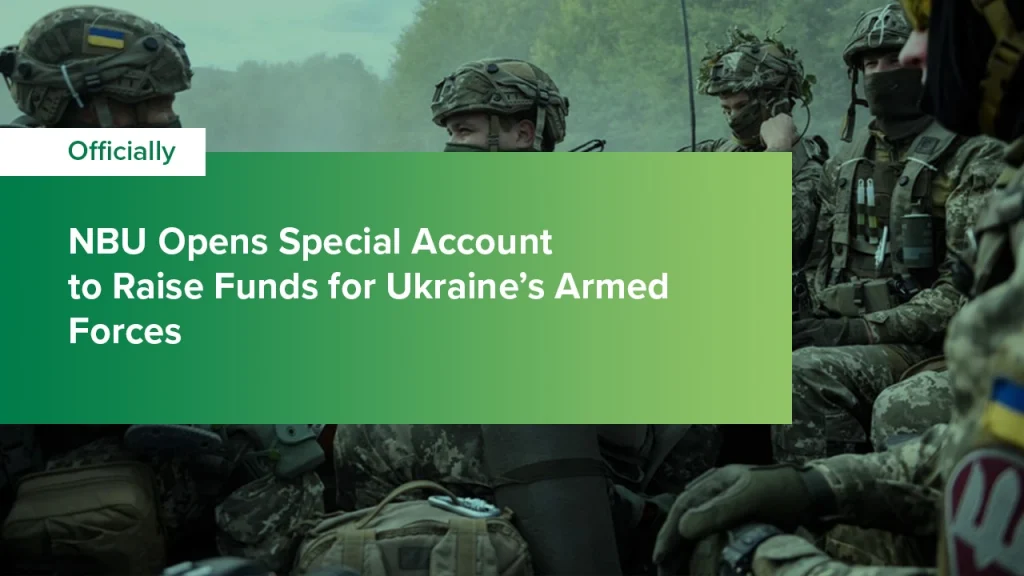 Help via Lamonth Golf Club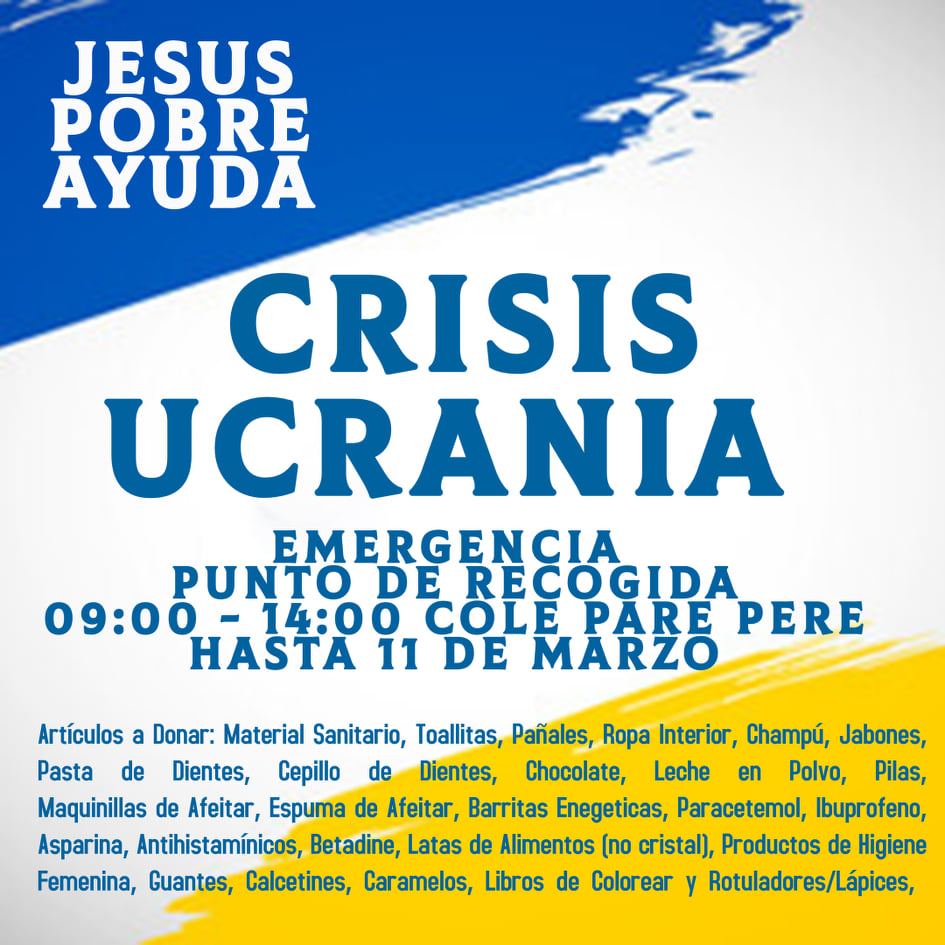 Want to join Campbell Lamont Golf and the Spanish Golfing Community in making a difference? We are raising money to benefit the people of Ukraine through the Spanish Red Cross (Cruz Roja España), and any donation will help make an impact.