Protest in Benitatxell for the death by heart attack of a bull . 17th August.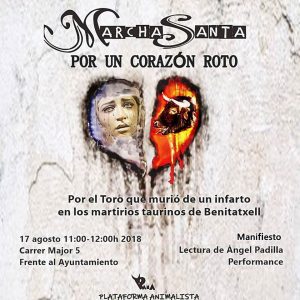 Members of about 60 animal entities from all over Spain, coordinated by the Marina Alta Animalist Platform, will attend Benitatxell on August 17 to protest the death of a bull during the fiestas of the Alicante municipality.
The death of the bull, which fell down during the last entry of the "bous al carrer" of the Poble Nou de Benitatxell festivities, took place on July 31.
In a statement, the conveners consider a "real crime what happened to the bull and denounce the "mistreatment that these holidays involve for animals", There are some streets with soil where the bulls cannot keep their balance which crowded with people who humiliate and mock the animals. It is hostile to them in an extreme degree ".
"So much that the infarction of this bull is not an isolated case," say the sources, which indicate that there are "continual deaths of animals used in popular festivals in Spain due to the enormous stress they endure."
As they explain, "the "stifling heat in the trucks, where they stay for hours in the narrow boxes, coupled with the shock when exiting into the light from the darkness, and already dehydrated, the martyrdom is tremendous".
"The muscular system of these animals is not ready to run," says Rosa Más, biologist and founding activist of the Miguel Quintana Antispecista Home, in Castellón.
This is one of about 60 entities of the Spanish state, some also German, English and Latin American, "that have united to fill the Poble Nou de Benitatxell in a demonstration against  the 'void' left by the bull. They which they will demand justice and an end to this animal cruelty".
The protest will take placeat 11am  in the Carrer Major 5, in front of the Town Hall and at the same time a Manifesto will be read by the Marina Alta Animalist Platform and there will be a poetry recital by Ángel Padilla, known as "the poet of animals".
Padilla was arrested a few years ago in Teulada for riding in the middle of a bullfighting bullfight and between bulls and corridors to a wooden pyramid and staging an anti-bull speech, between shouts and boos.
For the protest to have greater effect and social response, the organisers have had a space called "Do you come to seek justice for the death of a bull by heart attack?", Where people can coordinate in cars to go from any province close to Alicante or anywhere in Spain.
The act aims to be a tribute to the animal, who lost his life in an "authorised show" that, according to the lawyer Iratxe Arruti, president of the Animal Protection Association of Castellón (ASPAC), "should enter into the criminal category of article 337 of the penal code."
According to him, it is an "anachronism and hypocrisy that the penal code itself establishes distinctions between those who cruelly mistreat animals in unauthorised shows and those who cruelly mistreat animals in authorised shows." There should be no authorisation to carry out any type of mistreatment of animals. "
Some of the entities that will participate in the concentration are Actyma, CNT, Pacma, Animanaturalis, Liberta, Aspac, Equinac, Anadel, Dansanimalia, Abolition bulls Ya, Anonimous, Rosary Horse Liberation,#SinZoo, Antispecistic Ovia, Animal Activists of the Coast and Squadron KAT Spain. EFE