Freedom of movement.
Meetings of up to 10 people are permitted under Phase 1, both outside and in private homes. (except in the case of people living together, in which case the 10 maximum does not apply)
Travelling with others in a vehicle
All seats in the car may be occupied: The Government will allow private vehicles with up to 9 seats to circulate with all their seats filled, provided that the occupants live in the same house.
In case of NOT LIVING TOGETHER, only 2 seats can be occupied for each row of seats, keeping the distances, and each passenger must use masks or other protection device.
** With regard to 2 people shopping together – this does seem to be mentioned. It would appear nothing has changed but we will update if we hear to the contrary****
Can you travel to another province?
Inter-municipality travel is now allowed between neighbouring towns that have also passed into phase One. Please see map below.. We are the dark blue section. You must not, however, travel to another province.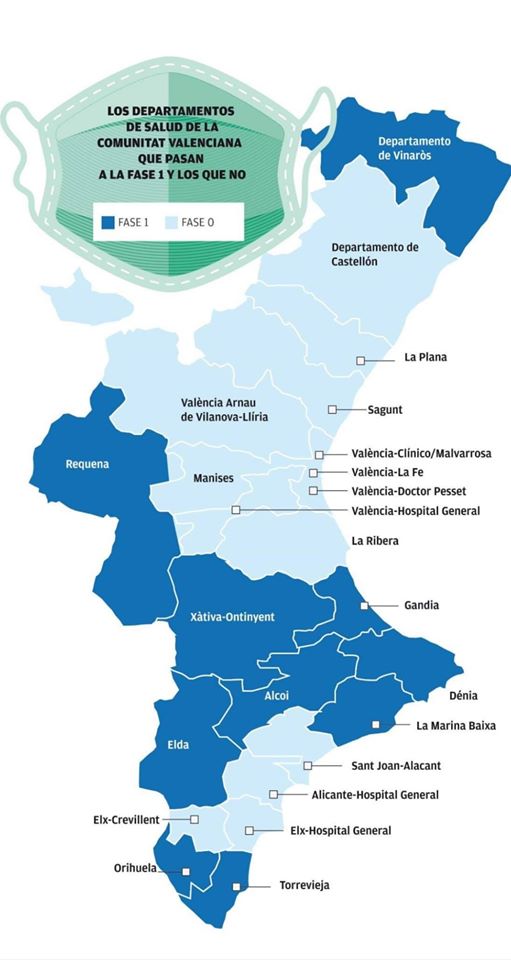 Can you go and meet your friends at a bar/restaurant?
YES BUT OUTSIDE ONLY…..Providing the bar or restaurant meets the criteria to open and providing there is room, (given that only 50% of tables on terraces can be occupied). yes you can. There will have to be a minimum distance of two metres between tables, and groups of customers cannot number more than 10.
Establishments will not yet be able to open their indoor dining areas, but will still be able to offer food to take away, as they could under Phase 0.
Restaurants and bars will have to use single-use tablecloths, and under no circumstances can a fabric tablecloth be used for more than one customer
It is unclear as to whether opening hours will be restricted – update later. .
Will timetables for taking exercise be the same during Phase 1 as it was for Phase O?
The timetables will remain in place, but each region can adjust them to suit their needs.
What are the timetables for taking walks and other sport?
Ahead of their possible modification by region, walks and other exercises, such as running and cycling, must take place between 6am and 10am, or between 8pm and 11pm.
Outings with children have to take place between 12pm and 7pm.
People who need to go out with a carer and seniors over 70 years of age have their own time slots of 10am to 12pm and 7pm to 8pm.
The order gives communities a margin to modify the start time of the periods reserved for children and adults. They will not be able to extend them, but if they advance or delay them up to a maximum of two hours. Several communities, especially those in the southern peninsula, have requested this measure to avoid the hottest hours.
Walking with dogs is also covered in the photo below.
On the Beach?
That depends on the individual Town Halls. It is the Council that must open them up to us and determine the conditions of use.
Communal Areas and pools?
No not yet, sorry – still out of bounds.
Small Businesses
Only premises measuring under 400 square meters will be permitted to open, as is the case under Phase 0. An exception here will be premises located in parks or shopping malls where there is no direct access from outside. Stores will be able to allow customers in up to 30% of their usual capacity, and a two-metre safe distance will have to be observed between customers. A preferential timetable for the over-65s must be established. Promotional campaigns that could attract a large number of customers is prohibited.
Re-opening permitted for:-
ITV Stations ( By appointment)
Car Dealerships (By appointment)
Garden Centres (By appointment)
Open Air Markets (reduced capacity)
Museums ( One third capacity)
Sport Facilities ( See below)
Churches ( Reduced capacity)
The order published allows for the reopening of high-level sports centres, although athletes can only be accompanied by a coach. The exception here is for minors or anyone with a disability, and who requires more than one companion. Open-air sports facilities can restart activity via an appointment system. After each event, the installations must be disinfected.
Education: The BOE sets out as follows:-
Conditions for the reopening of educational and university centres.( Article 18)
1. The educational centres may open for disinfection, conditioning and for the performance of administrative functions. It will be the responsibility of the directors of the educational centres to determine the teaching and auxiliary personnel necessary to carry out the aforementioned tasks. Schools and universities will also reopen so that they can be disinfected, and adapted ahead of the eventual return of students.
2. During the performance of the administrative tasks referred to in the first section, a physical safety distance of two meters must be guaranteed.
Working
The BOE recommends that people continue to work from home where possible. In workplaces, meanwhile, there must be a distance of two metres between employees and the use of individual protection equipment is obligatory when this not possible.
Entry and exit from workplaces should be staggered. Workers who need a uniform or other work clothes must wash them daily, at temperatures of between 60 and 90ºC.
Churches and Funerals
The order allows funerals/wakes to be held "in all kinds of public and private facilities", with a maximum of 15 attendees in the outdoor spaces and 10 in those held in closed rooms. You can also go to churches and other places of worship "as long as it does not exceed a third of its capacity", although it is prohibited to use "the exterior of buildings and public roads" to celebrate acts of worship.
Libraries and Museums
Libraries may also open for "the activities of loan and return of works, reading in the room, as well as for bibliographic and library information", although security distances are also imposed and activities of use of public devices such as computers are limited, among others.
Museums will be able to open their facilities to the public to allow visits to the collection and temporary exhibitions provided they reduce to a third the expected capacity for each room and space. On the other hand, the holding of educational or cultural activities is not yet allowed.
Finally, a paradox which lasted a few hours.. then there was a U-turn
There was also an little contradiction: Freedom of movement within the health area has been granted, but did not authorise travel to a second residence. This produces a strange paradox For instance, someone from Javea could go to Dénia to a bar or meet friends but they could not go to a second residence within Dénia.
Later they had a rethink… Sources from Moncloa have subsequently clarified to Europa Press that the Ministry of Health has reexamined the issue this morning and confirms the interpretation that "it is possible to move to second homes within the same province or areas that pass Monday to Phase 1, in the same way that travel to hotels and tourist accommodation is allowed ". https://www.moncloa.com/el-gobierno-cambia-de-criterio-y-permite-viajar-a-segundas-residencias/
There is more regarding sport. hunting, fishing etc but that would just be over complicating things right now but you can read and translate from the official link below.