Starting on Thursday 7th January until (at least) 31st January
1) The perimeter confinement of the Valencia Region is extended until January 31st
2) Curfew is brought forward one hour from 11.00pm to 10.00pm
3) The hospitality industry to close at 5 pm . ( Deliveries and Take-Aways will be allowed from 5pm if licence permits)
4) Smoking is prohibited on the terraces and is reduced to a maximum of four people per table.
5) Capacity is reduced to 30% in all shops and 50% in essential establishments. (exceptions below).
The commercial activity of establishments and commercial premises dedicated to the essential food trade, pharmacies, orthopedics, opticians, hairdressing services and veterinary clinics is excepted, which will be kept at 50% of the capacity allowed by license or authorisation of the activity.
6) The maximum number of people in social gatherings is kept at six and in the case of weddings or mass family celebrations it is reduced to 15 people outside and 10 indoors.
7) The perimeter closure of 26 municipalities with high rates of infection rate is decreed : Borriol, Atzeneta del Maestrat, Soneja, Jérica, Alcoi, Castalla, Polop, Llíria, Massanassa, Ayora, Utiel, Sedaví, Sollana, Guadassuar, Oliva, Daimús, Canals, Daimús, Benigànim, Xàtiva, Moixent, Ontinyent, Cheste, Anna, Sinarcas, Quatretonda and Bonrepós i Mirambell.
These measures take effect on Thursday and will last for at least 14 days .
The hospitality sector is the most affected by the new restrictions imposed by the president, Ximo Puig, to try to stop the third wave of coronavirus infections.
As of next Thursday, January 7th bars and restaurants must close before 5:00 p.m. (and will not be able to reopen until the time assigned to them according to their status).
Smoking is prohibited on the terraces of the establishments, where, in addition, the maximum occupation of the tables will be four people . Inside the premises, the capacity is reduced to 30% of the usual assigned by the administration.
Likewise, in the case of indoor banquet halls , the maximum capacity per celebration (weddings, baptisms and other similar events) is reduced to ten people, while if it is held outdoors it will be 15 guests.
The general curfew has been brought forward from 11pm to 10pm. Puig has highlighted that nightlife has been closed in the Community throughout the pandemic but that they were allowed new hours to work. However, the president has assured that now they will have to adjust to the same measures as the rest of the establishments.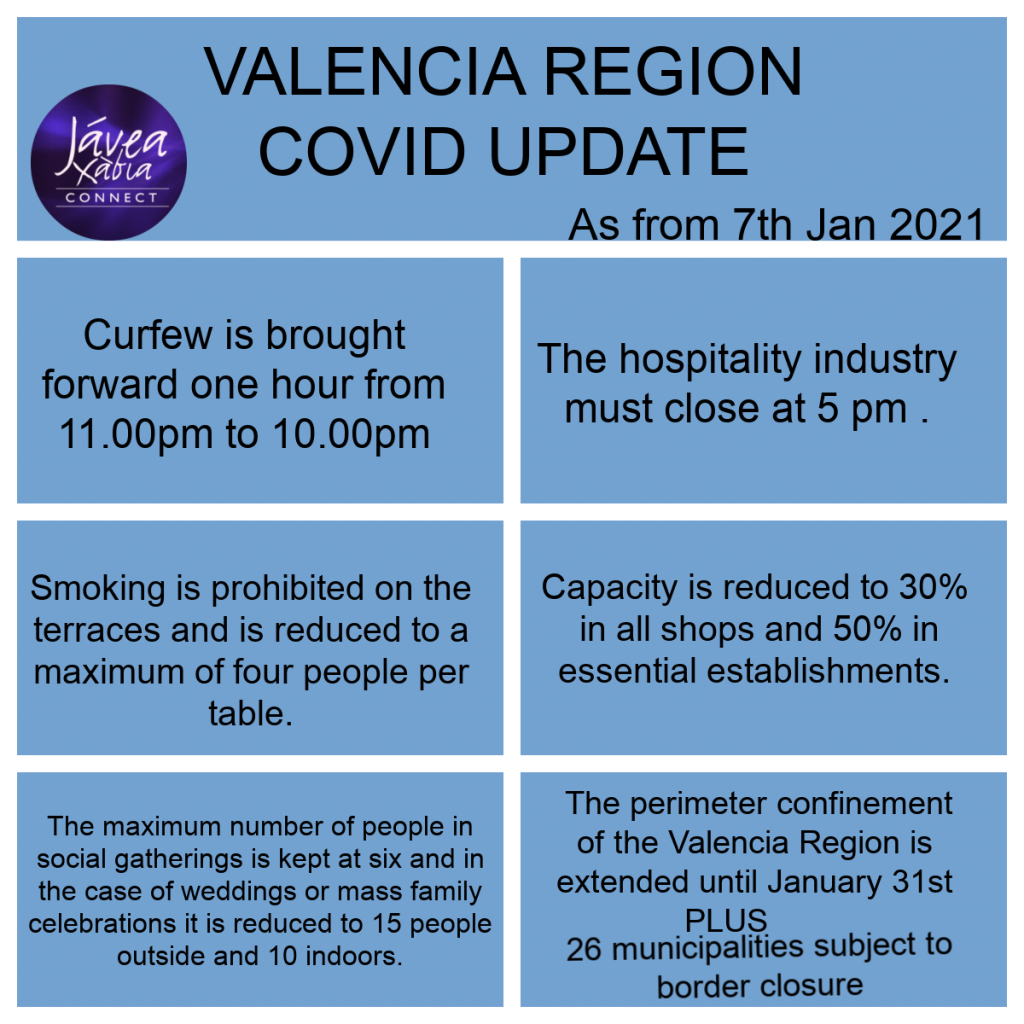 Needless to say, the hospitality industry is not at all happy.
"They condemn us to closure"
The leisure and hospitality groups of the Region, grouped together in the Assembly of the Leisure Camping of the Valencian Community and the Hospitality Coordination of the Neighborhoods of Valencia, have demanded the immediate activation of a plan of direct financial aid to SMEs most affected by the restrictive measures, without excuses and more delay, after the announcement of the new measures. However, the Assembly and the Coordinator have called an urgent meeting to activate their protest plan and force the economic rescue.