Ximo Puig has announced the new measures from next week. ( 8th to 30th June)
Today (Thursday), the president of the Generalitat Valenciana appeared at a press conference, after the meeting of the interdepartmental table for prevention and action against Covid-19, to present the new rules that must be followed to avoid new infections.
Promising data on the evolution of the pandemic in the region, as well as the advance of vaccination have helped and Ximo Puig has now stated that the curfew can be ended (currently set between 01.00 and 06.00 hours). After seven months, full freedom of movement will return.
Limits also disappear in social gatherings, always respecting distances and appropriate security measures. It has also been agreed to open all seats in places of worship, in groups of guided excursions and summer schools.
As for the measures that still continue in the Valencian Community, the Generalitat continues to insist on restriction of hours in hospitality establishments, as well as the use of masks: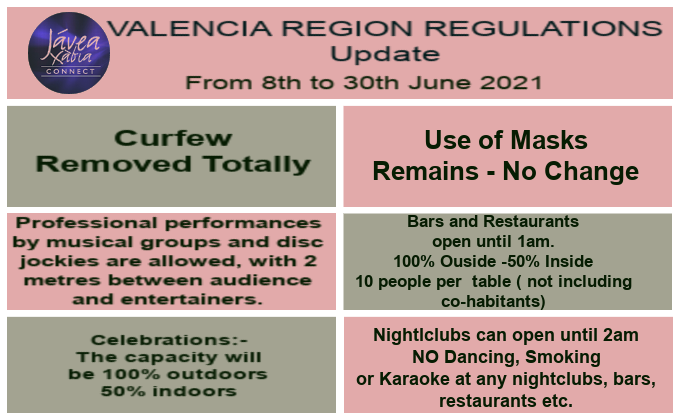 Hospitality
The closing time of the hospitality industry remains at 1am. In addition, the capacity of bars and restaurants remains as before. The terraces can be filled up to 100% while inside the capacity is 50%.
The use of masks is still mandatory, despite the fact that a couple of days ago the door to a possible relaxation was opened , for now, this protection device to stop the spread of the virus will remain on force.
– NO celebration of the night of San Juan will be allowed . Although the nightlife measures have been relaxed and there is no limit on nighttime mobility, Ximo Puig has announced that "you cannot do a normal San Juan because we are not yet in a normal situation" and that crowds must be avoided.
Libraries, museums, archives, exhibition halls, art galleries, monuments and other cultural facilities
– No capacity restriction
– Computer media can be used
– Visits of up to 25 in open spaces and 15 in closed ones.
Summer cinemas, drive-ins, theatres, amphitheaters, auditoriums, multifunctional halls, performing arts halls and circuses
(Fixed or portable installations are included)
– Capacity 75%
– Numbered tickets
– The seated audience
– No exchange of objects
Non-religious ceremonies and subsequent celebrations
– The capacity will be 100% outdoors and 50% indoors
Traditional festive activities
– The festive venues may open from 10:00 to 13:00 and from 16:00 to 23:00.
Hotels and restaurants
– Capacity allowed inside 50% and outside 100%.
– They must be closed at 1:00 a.m. and not accept orders after 00:30
– 10 people per table except cohabitants
– 2 metres between tables inside and 1.5 meters outside
– Professional performances by musical groups and disc jockies are allowed, with 2 metres between audience and group.
What is still NOT allowed…
Smoking
Consumption at the bar area
Dancing and karaoke, neither inside nor outside the premises.
Leisure and entertainment
The activity of discotheques, dance halls, cocktail bars with or without performances, pubs, cyber-cafes, theater cafes, concert cafes and singer cafes IS permitted.
– The consumption of food or drink can only be done, seated at tables only.
– Interior capacity may not exceed 100%.
– The maximum number of people per table will be 6 indoors and 10 outside
– Closing times will be as per the licence of the estalishment. In any case it will never be later that 2am.
– Only performances by professional groups are allowed, no karaoke or amateur performances ar permitted.
– No smoking permitted.
Recreational or gambling activities
– Is allowed to open with the same hours as leisure and entertainment.
Hostels, tourist hotels, rural houses and other accommodation
– Common areas with accommodation up to 75%.
In hotels, catering shall be in accordance with their catering measures.
– In the accommodations that offer rooms and collective services to groups of different co-habitations, the use of common elements (kitchens, etc.) may be carried out by groups with stable co-habitation or overnight groups, having to be disinfected before and after each use.
No Dance or karaoke, neither inside nor outside the premises
Guided tours
– Prior appointment as a preference
– Groups of 25 outdoors and 15 indoors.
Free time activities and playgrounds and recreation
– Open during free movement hours
– Educational leisure activities and education may be carried out in free time. Where these activities take place, the capacity cannot be exceeded by 75%. The participants will be 25 apart from the group leader.
Residences and other similar accommodation
– School and student residences, camps and shelters.
– Common areas: 50% of its capacity. No buffet or self-service. Use of common elements successively by overnight groups. Efficacy and vigilance
The new measures will come into force at 00:00 hours on June 8 , 2021, and will remain in force until at least 11:59 p.m. on June 30 .