The 2019 line up for The Moraira Music Festival on 9th June by the Castle. Forming part of the Moors and Christians Fiesta week.
Our Thanks to Eric Taylor.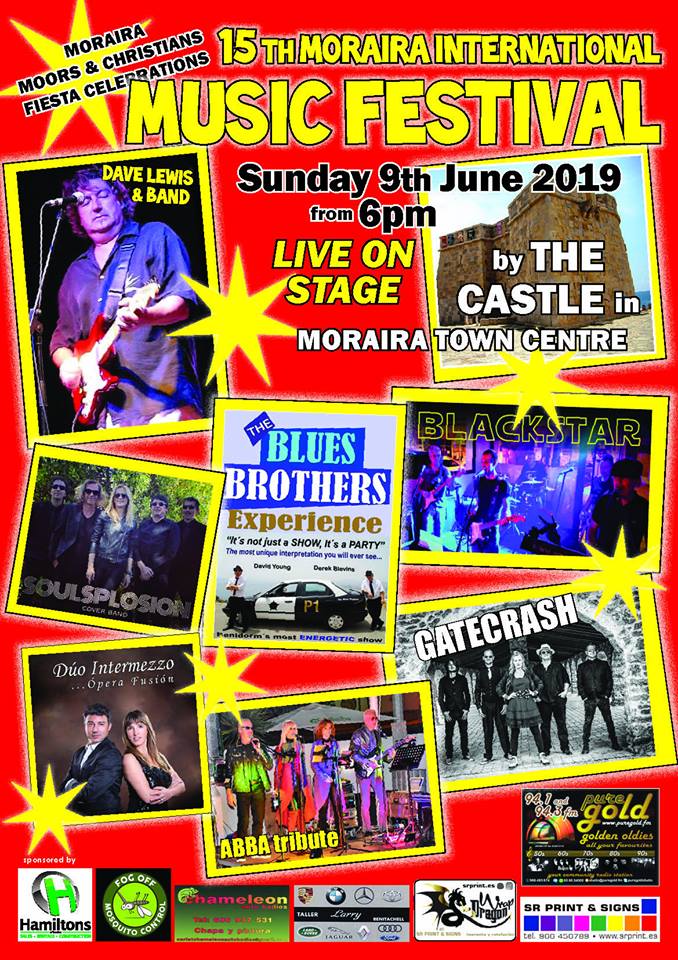 DAVE LEWIS BAND (6 pm)
This band consists of Jon Turner (Organ), Dave Lewis (Guitar), Tony Baulch (Drums), Frank Abrams (Saxophone) and Kike Pons (Guitar) – playing great Rock/Blues music.
A TRIBUTE TO ABBA
Job and Jolande from Match, Tony Bloom from Acoustic Moon and Mechie Van Oers bring you a Tribute to ABBA, featuring all your favourite ABBA songs.
SOULSPLOSION – POP/FUNK/SOUL/DISCO/COVER BAND
SOULSPLOSION are a Cover Band formed by five musicians from different countries to offer the audience the best songs of Soul, Disco, Pop and Funk of all times from the 60's to modern hits.
INTERMEZZO OPERA FUSION DUO
With its unsurpassed versatility, the Duo Intermezzo is able to interpret a variety of styles, characterized by the predominance of an exquisite fusion between opera and pop, opera fusion, Latin jazz, in a beautiful performance.
GATECRASH "THE PARTY BAND"
Gatecrash are a well established band fronted by the energetic Irish Niamh, with second lead vocals and guitar/keyboards from Adam Daniels, supported by Oscar (lead guitar), Jose Luis (bass guitar) and Enrico (drums). Their music consists of a mix of big covers from Queen to Ed Sheeran, Tina Turner to The Beatles, Amy Winehouse to Amy Mcdonald plus a touch of Irish.
THE BLUES BROTHERS EXPERIENCE
Once again The Blues Brothers Experience return with their unique interpretation based on the great movie of the 80s. Probably the most energetic show you will see this year.
BLACKSTAR BAND
Blackstar are a local, fully live five piece band playing an eclectic mix of well known classics from several decades and genres including pop, rock, indie and alternative tracks all performed in their own dynamic and individual style.