On behalf of all the Javea Connect Team and it's 20,000 members we would like to congratulate our own young local band, Happy Freuds on their huge breakthrough this week.
Having personally known a couple of these extremely talented lads since they were "little nippers" at school, it was wonderful to hear the news yesterday that their dedication to music is now being internationally acclaimed!
In a press release yesterday, the band announced that….
"Happy Freuds the highly acclaimed new Spanish/Swedish Rock Band from Javea are pleased to announce that via Rights Asset Management from London that a global distribution deal has been agreed with WARNER MUSIC GROUP for global release of their new Album, namely ECHO OF SOUNDS.
Following the release of the Album over the next quarter Warner Music will also launch the merchandising & also invoke key Tour Dates for the band in the UK, Germany & the USA.
As part of the launch of the Album the band will carry out selective interviews with Music Week, Billboard, GZ, Sunday Times culture section, Dazed & Confused & The Daily Express publications.
Given the band will now embark on their ambitions to become a global brand we can offer you last & possible final opportunities to book Happy Freuds before they embark on overseas tours where their time will be very limited."
For further information, contact;
[email protected]
Freuds are not only doing something that no others have done from Javea before, namely, signing with the 2nd largest label in the world – directly, but also…… TO  CELEBRATE THEIR ACHIEVEMENT – This Friday at Botanico on the Arenal, Javea, the guys are doing a celebration gig, which by design is likely to be one of the few remaining locally. Adding to that; Happy Freuds will buy EVERYONE who attends a drink, when the gig is over !!! On the house – On the band – a drink !
Keep them company and PACK the place !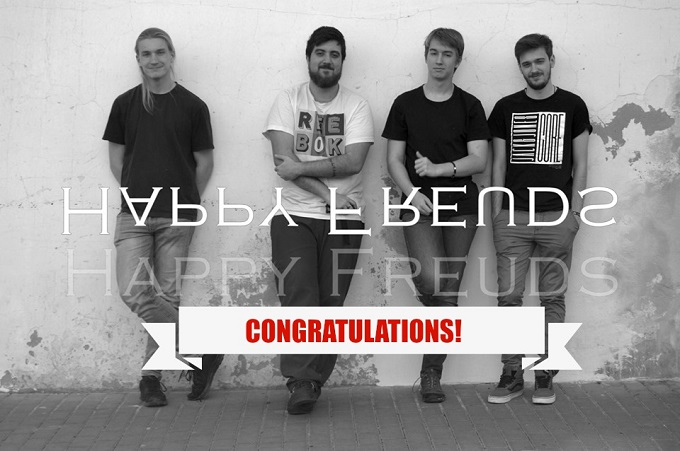 These lads have given a lot to the community in more ways than one and we all wish them the very bust of luck on their way to fame and fortune. I also know that they have received an enormous amount of support and encouragement from their families over the years and I imagine we have some very proud parents around town today 🙂
SALUD!!!!