Fancy some light relief from the Halloween Hubbub and Christmas Crackers ?
Then please come and join Durga, Prem and their friendly team at the Kathmandu Nepalese Restaurant (opp. Mas y Mas on the Arenal) on Thursday 9th November at 7.30 pm. There will be a tasty evening menu for just 16.00 euros … this includes mixed starters, choice of main course, accompaniments, plus dessert or coffee.
The Out of the Blue Band will kindly be providing the evening entertainment,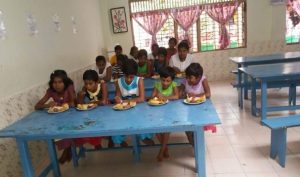 with music to suit all tastes, so be sure to have your dancing shoes on. Along with a raffle and some fun we aim to raise some dosh to support the Wijesinghe Girls Orphanage Project in Sri Lanka to cover cost of craft /basic IT and Sinhalese lessons for the next 3 months.
 We would love you to be there, to book your table, simply telephone the restaurant on 966 471 684/633 308 407. If you require further information please contact Helen Davis on 684 455 099