When:
July 4, 2020 @ 7:00 pm
2020-07-04T19:00:00+02:00
2020-07-04T19:15:00+02:00
Where:
L'Albarda Gardens
Carrer del Baix Vinalopó
8, 03750 Muntanya de la Sella, Alicante
Spain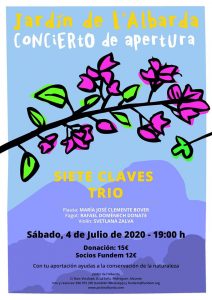 After this period of quarantine forced us to suspend all activities, we are pleased to announce our first concert of the year, the Opening Concert. We want to celebrate the return to normality with an unforgettable evening full of good music, in an unbeatable atmosphere and in the best company, yours!
Date: Saturday, July 4, 2020
Start time: 19:00 h.
Donation: 15 euros. Fundem members: 12 euros.
Tickets can be purchased by the following means:
– Advance purchase of tickets through the Internet: https://www.tomaticket.es/entradas-jardi-de-lalbarda-concierto-de-apertura
– Advance purchase of tickets at the usual points of sale (see below)
– Purchase of tickets at the box office on the day of the concert, from 6pm (subject to availability).
Tickets can also be booked via [email protected] or via WhatsApp 696 975 290 indicating name and surname, number of tickets and type (member or non-member). Reservations will be made until Friday, July 3 at 1:00 p.m. Reserved tickets can be collected and paid for at the Garden on the same day from 6pm.