When:
2019-07-20T00:00:00+02:00
2019-07-21T00:00:00+02:00
Where:
Denia Castle
Carrer Sant Francesc
03700 Dénia, Alicante
Spain

The Music Festival at the Castell de Dénia celebrates its XXVIII edition from Monday 15 to Sunday 21 July, seven intense days in which you can enjoy six concerts in two emblematic spaces of Dénia -the Explanada del Castillo and the Plaza del Consell- , as well as four street parades through the centre of the town.
VENUES AND TIMES VARY… SEE POSTER BELOW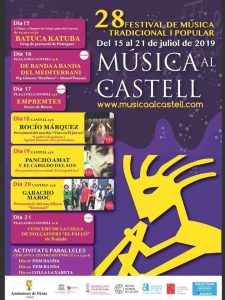 Thus, in the Esplanade del Castillo, the main stage of the festival that has the port and the Montgó as a backdrop, act Rocío Márquez, one of the most considered and heterodox voices of contemporary flamenco, Pancho Amat and the Cabildo del Son, a reference of the most contemporary Cuban son, and Gabacho Maroc, with its original proposal that combines jazz and traditional gnawa music from the Maghreb.
Three also, one more than in the previous edition, will be the concerts scheduled at the Off Festival, whose stage is the central Plaza del Consell. The first will be led by one of the greats of traditional Valencian music, Pep Gimeno "Botifarra", who returns to the festival this time accompanied by the Moroccan Ahmed Touzani. The second appointment comes from the hand of Xavier de Bétera, one of the great innovators of the Valencian cant d'estil . And to put an end to the 2019 edition we will have an active regional formation, the Colla Falçó de Teulada, with its novel and respectful way of understanding the music of dulzaina and tabal.
In short, six attractive musical proposals, which together with the four programmed parades, will mark the rhythm of the summer Dénia and, undoubtedly, become a magnificent claim to savour the city and everything it offers: taste its renowned cuisine, to bathe in its beaches, to visit its museums, to walk through its mythical mountain, the Montgó, or through its agrarian landscapes, to wander through its streets and historic neighbourhoods, to explore its beautiful region …