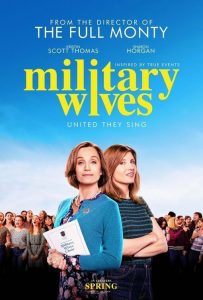 The film centres on a group of women in England whose partners are away serving in Afghanistan. Faced with the men's absences, they form a choir and quickly find themselves at the center of a media sensation and global movement. Inspired by global phenomenon of military wives choirs, the story celebrates a band of misfit women who form a choir on a military base. As unexpected bonds of friendship flourish, music and laughter transform their lives, helping each other to overcome their fears for loved ones in combat.
110 min

United Kingdom

To be decided

Drama, Comedy

Peter Cattaneo
SHOW TIMES
Tuesday 22 September 18:00

Wednesday 23 September 20:00

Thursday 24 September 20:30 -Terrace
NEW THEATRE RULES:-
Jayan Cinema, will allow entry -in principle- to 50% and, little by little, it will increase its capacity.
Space will be delimited with marks on the floor that will help maintain the preventive safety distance.
The use of the mask will be compulsory in the cinema hall and access to the seats or terrace will be carried out in stages. Once inside, the seats will not be numbered or marked, so attendees will be able to sit wherever they want "under their own responsibility and taking into account that the recommended social distance must be kept". By limiting the entry to 50% of the available capacity, it is a very simple task to comply with this very important prevention measure today.
In addition to the cleaning that is carried out after each screening, the Jayán has an air regeneration system (quite innovative in movie theatres) that allows renewal between sessions, providing a higher quality of the environment. A specific poster will also be installed explaining the hygiene and safety measures adopted by the cinema and that all users must follow.