When:
July 5, 2019 @ 7:00 pm
2019-07-05T19:00:00+02:00
2019-07-05T19:15:00+02:00
Where:
Plaça de la Constitució
03730 Xàbia, Alicante
Spain

The event will be held on Friday, July 5th in the Plaza de la Constitución starting at 7:00 p.m.
Javea City Council vows to remain faithful in its commitment to the defence of diversity and sexual freedom. On June 28th a meeting of councilors, municipal workers and neighbours took place and voted in favor of policies for sexual diversity and against discrimination of people because of their sexual orientation or gender.
Javea mayor, José Chulvi, read a manifesto in which he also expressed concern about the increase in attacks against LGTBI citizens and made clear the commitment of the Corporation to real equality, which would guarantee the right of everyone to be who they are and feel and love as they choose.
The Councilor for Equality, Montse Villaverde, has taken stock of the actions carried out by the Consistory in a stable and continuous way. Villaverde recalled that for 3 years the Xàbia program has been diverse , including awareness work in the institutes to educate respect and prevent discrimination, as well as providing a space of trust and support for young people who need it ( contact is welcome via email [email protected]).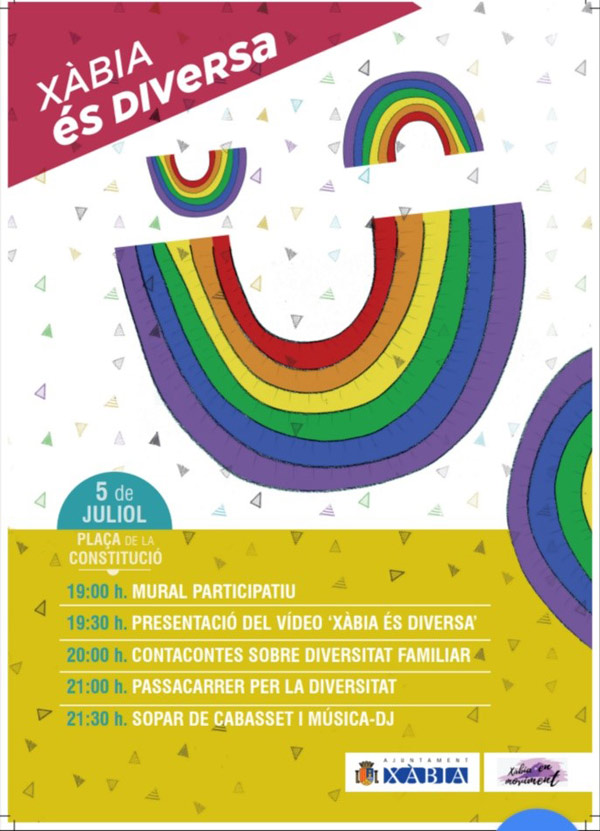 In addition, each year a special action has been prepared, such as the editing of a video in which people tell of their experiences on this path.
Party with Batukada, Dinner and DJ
This event will begin at 7:00 p.m on July 5th, in the Plaza de la Constitución opening with an artistic intervention by the collective Les 9 Muses, who will prepare a protest mural. You can also see the documentary that premiered last year and there will be a space to talk about diversity in families.
Afterwards,  there will be a parade with a batukada through the Historical Centre and, finally, a brotherhood dinner and music from DJ Maluks.