When:
2021-05-10T17:30:00+02:00
2021-05-10T17:45:00+02:00
Where:
Saxo Disco Garden Chill Out
Ctra. Moraira a Calpe
18, 03724 Moraira, Alicante
Spain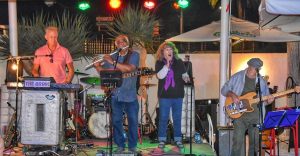 We are pleased to announce that the first Brink Band Monday Jam session of 2021 at Saxo's, Moraira, is this coming Monday 26th April starting at 16:30/4:30 pm weather permitting as we shall be outdoors on the stage in the garden.  Delicious Hamburgers on sale.
All Covid 19 regulations are still in place regarding masks, distancing and smoking. Please keep to these rules not only as a concern for mutual health but as a concern for our being able to continue live music. Many thanks.  We kindly ask singers & harmonica players to bring their own microphones.  Drummers please bring your own sticks.
Please note that we are no longer able to go indoors should it be raining.
Any questions please call us on Tel. 635 831 922.
Saxo's is accessible from the big free public car park next to the fun fair.