When:
2021-08-06T18:00:00+02:00
2021-08-06T18:15:00+02:00
Where:
See Programme Below
Benitachell / El Poble Nou de Benitatxell
03726, Alicante
Spain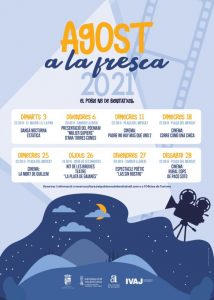 A programme of activities that will begin on Tuesday, August 3rd, with a static nocturnal 'Dansà' by the Grup de Danses Morro Falquí. It will take place at 22:00 in the streets of La Pau and Mayor.
The program also includes movies in the street on Wednesday 11, 18 and 25 and Saturday 28 August , in the Market Square, at 10pm.
On Friday, August 6 at 8-m , C/Llebeig will host the presentation of the collection of poems 'Mulier sapiens', by Ana Torres Comes; and on Friday the 27th, the poetic show 'Las sin cara'.
You can not miss the now usual 'Night of the Witches', which this year will feature the theatre 'La plata de Gaianes' on Thursday , August 26th , at 7:00 p.m., at the archaeological site of the Cova de les Bruixes.
Those interested and interested in participating in the activities can sign up at [email protected] or in person at the Tourist Office from Tuesday to Saturday, from 10:00 a.m. to 3:00 p.m.