When:
September 24, 2019 @ 6:00 pm
2019-09-24T18:00:00+02:00
2019-09-24T18:15:00+02:00
Where:
Cine Jayan
Calle Santísimo Cristo del M
14, 03730 Jávea, Alicante
Spain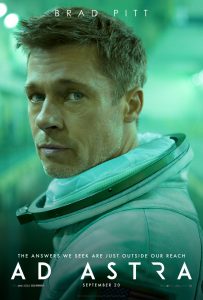 Ad astra
Twenty years after his father left him on his mission to Neptune to find signs of extraterrestrial life, Roy McBride decides to travel through the solar system to find the answer to why his father's mission failed. Now, he knows that what his father was experiencing can endanger the entire Solar System. The film will be produced by Walt Disney Studios Motion Pictures studios and distributed under the seal of 20th Century Fox. Ad astra is directed by James Gray ('Z, the lost city'), who also co-wrote the script with Ethan Gross . Starring actor Brad Pitt, we can also see Tommy Lee Jones, Ruth Negga, Liv Tyler and Donald Sutherland.
QUALIFICATION: PC
GENRE: Thriller
DIRECTOR: James Gray
DURATION: 124 min
CAST:Brad Pitt, Liv Tyler, Ruth Negga, Tommy Lee Jones, Donald Sutherland, John Finn, Kayla Adams, Kimmy Shields, Bayardo De Murguia, Lorell Bird Dorfman, Sasha Compère, Afsheen Olyaie
SHOW TIMES
Friday 20 19: 45h
Tuesday 24 18: 00h 
Thursday 26 20.00h