Pet Festival in Denia
Recurring event
see all
June 4
@
5:00 pm
–
9:00 pm
Come spend a day with your dog and family.
On June 4 and 5 at the Marina de Denia we return with the Mascotetes Festival.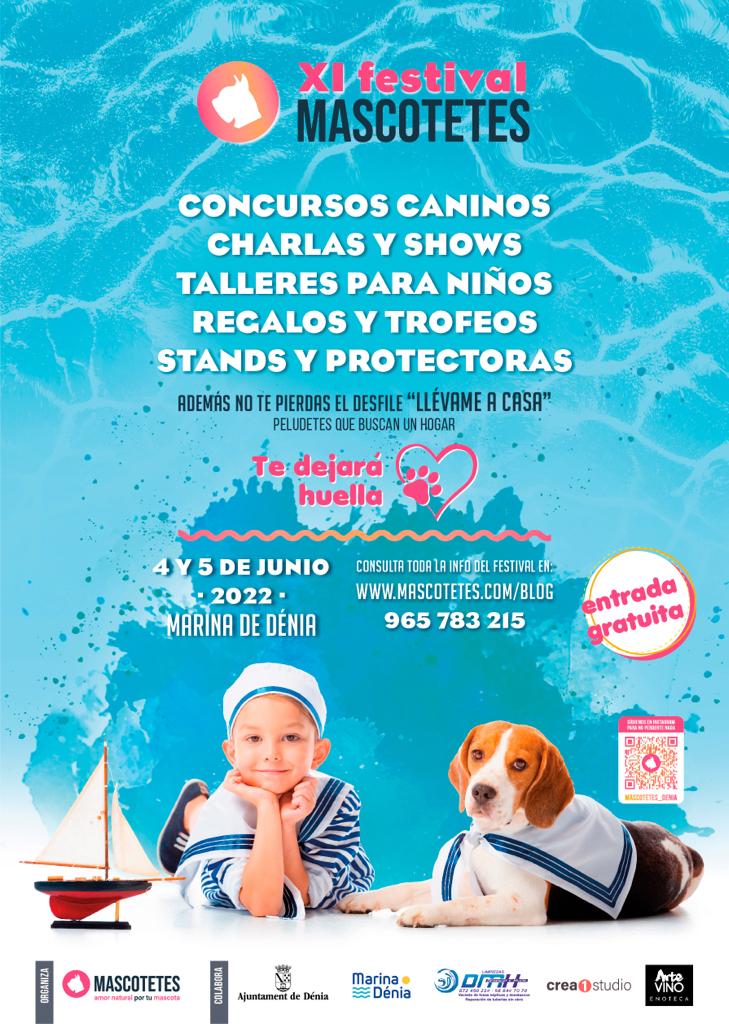 Programme
Saturday 4th
17:00 Registration for the Mascotetes contest
17:00 Delivery of the prize valued at €70 for the Most Influencer Cat
17:30 Workshops for the little ones (Pets)
17:30 Workshop Naturals Biscuits for dogs. Come and learn how to make delicious 100% natural cookies for your furry ones.
From the hand of Biutitful Foodtrack.
18:00 Talk "Why do people abandon animals?"
18:30 Pet Contest.
– The most hairy
– The most talkative perreta
– The most sympathetic perrete
– Top couple
– Most original costume
This contest has a cost of €5 per category, just for participating you will get a gift, and the three finalists in each category will also get their corresponding trophies as gifts.
19:00 Canine skills show for deaf people. During the Mascotetes contest we will pause to
meet Adrián and one of his puppies trained for this wonderful work that he does at Adrican in Teulada –
Moraira.
19:30 Dog Show by Jack & Fermín with Laura and Hanna, finalists of Got Talent Spain.
20:30 Spring Parade. Here you will know the new trends to celebrate your wedding, or if you go as a guest and
of course, accompanied by our furry ones.
Sunday 5th
9:00 Registration of the Canine Society of Alicante (more information at: https://www.sociedadcaninaalicante.com/event/concurso-nacional-denia-3/ )
10:00 Demonstration of Paddle Surf with Dogs with the Dieresis Animal school
10:00 agility track with the Nadog School. Come and try with your dog and discover this magnificent sport.
10:30 Solidarity Yoga with Luisa Figueroa from Yogaworks.es. Bring your mat and enjoy a class in front of the sea.
11:30 Solidarity Walk around the Denia Marina. Come with your dog and join this march in favor of animals that need a good home.
12:00 Initial registrations and breed confirmations (RSCA)
12:00 Workshops for children (Pets)
12:00 Face painting by Clara Pedreguer aesthetic center
12:30 "Take Me Home" Parade Come meet several dogs looking for a good home. Who knows if he will be your future best friend?
1:00 p.m. Protective dog contest. All those dogs that have been adopted or are looking for a home can participate and take gifts.
13:30 Talk on education and well-being of dogs with Vanesa from Diéresis Animal.
Sunday morning is solidarity, but it will be possible to collaborate with a voluntary contribution and all the proceeds will be distributed among the assistant protectors. Together we can do a lot.
In addition, during the two days you can take a photo with your dog in our free photocall. Pepa will take care of the photos and Karmen will take care of the most original photocall.
Visit the different stands of protectors and different products.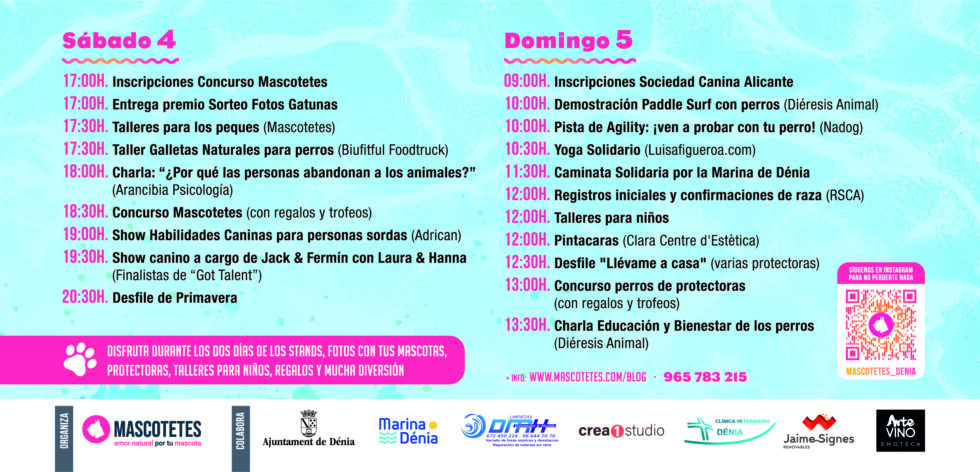 Related Events