Vaccination against the new coronavirus began on December 27, 2020 in all Autonomous Communities. Once authorized by the European Commission and after the favorable opinion of the European Medicines Agency, the first vaccine to arrive in our country was the one made by Pfizer / BioNTech (Comirnaty) , although Europe is negotiating the acquisition of other vaccines . Authorized by the European Commission on January 6, 2021, Moderna's vaccine is the second to arrive in Spain .
As the vaccines will be available in a progressive manner, it is necessary to establish an order for the vaccination of the population. For this, ethical criteria, risk of serious disease and risk of exposure have been considered.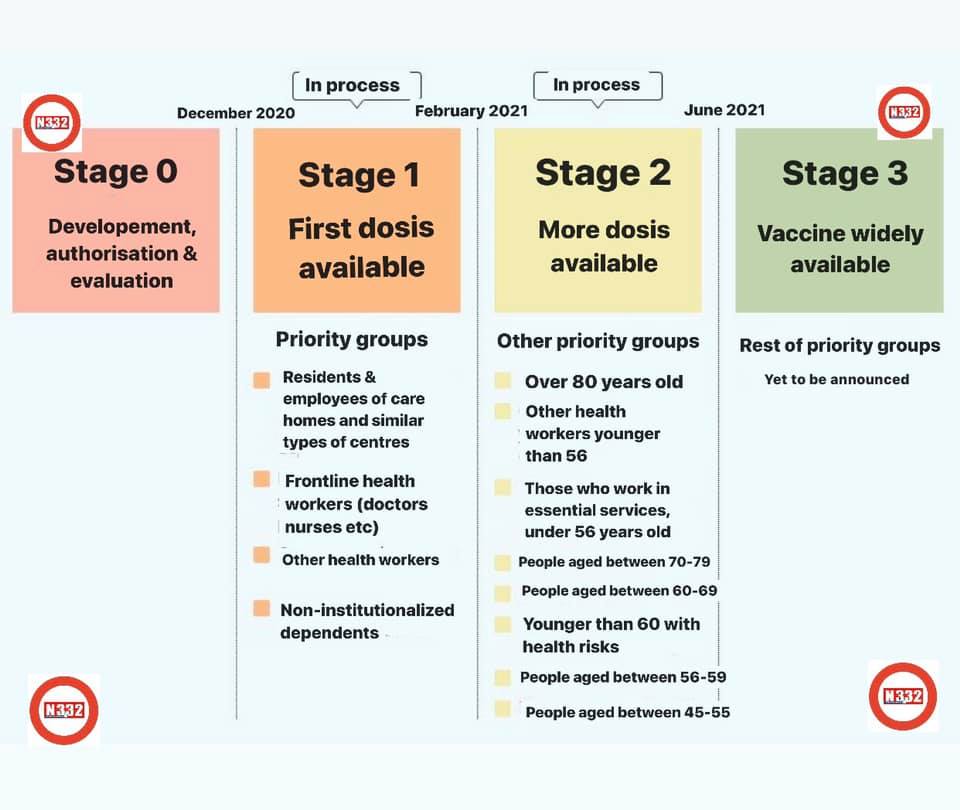 JUNE 2021 ONWARDS
WIDELY AVAILABLE VACCINE
Rest of priority groups – pending further announcements.
In the first stage, in which vaccines are available in smaller quantities, the following groups will be vaccinated in the order listed below:
Residents and health and social health personnel who work in homes for the elderly and care for large dependents
Front-line personnel in the health and social health field
Other health and social health personnel (not included in the previous group) who carry out activities that require close contact with people who may be infected by SARS-CoV-2. Priority will be given to personnel from the hospital and Primary Care settings that are not considered first-line. Dental, dental hygiene and other health personnel who care for people without a mask for more than 15 minutes will also be vaccinated.
People considered highly dependent (degree III of dependency, that is, in need of intense support measures) who are not currently institutionalized
Within the second stage, the first group to be vaccinated will be those over 80 years of age.
A more detailed description of which people make up each of the groups can be found in Update 2 of 1/21/2021 of the COVID-19 Vaccination Strategy (PDF) .