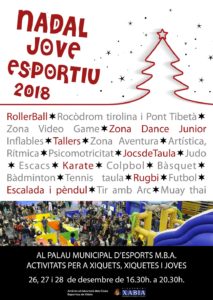 The Christmas entertainment program aimed at the young returns to the Palau d'Esports Miguel Buigues Andrés from December 26 to 28. 
The Nadal Jove Esportiu will fill the three Christmas holiday evenings with a multitude of activities. The activities are aimed at children between 1 and 17 years old and there will be a bar service for parents.
The doors  open at 4:30 p.m. until 8:30 p.m. with a variety of offers that will change each afternoon.