Click here for event news
Jun
17
Sun
Family Fun Day at Solpark

@ Solpark
Jun 17 @ 12:00 pm – 4:00 pm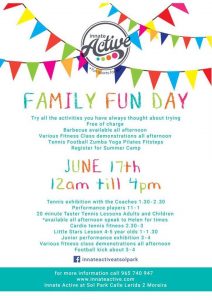 Everyone's welcome to come along to Innate Active, at Solpark to enjoy our Family Fun Day on Sunday 17th June at 12 noon.
Have a great day filled with football, tennis, yoga, pilates, Zumba and FitSteps all free of charge!
Take the opportunity to sign your children up for our amazing summer school and free tennis. 
We'll have tennis exhibitions from the coaches and special lessons for 4-5 year olds plus a junior performance exhibition during the afternoon.
And then when you've tried everything why not try some food in our recently refurbished restaurant or have a game of mini golf?
Jul
13
Sat
Alchemy at Bar Quo Vadis

@ Quo Vadis
Jul 13 @ 8:30 pm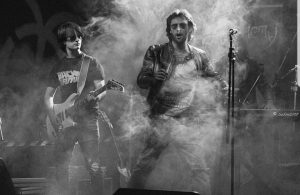 The rock band Alchemy rises from the ashes of Marcello Spera (lead vocals and rhythm guitar) and Cristiano Stefana's (lead guitar) past musical experiences, joined by Matteo Severini (drums), Matteo Castelli (bass) and Andrew Trabelsi (keyboard). The band records its first EP, "Rise Again" in April 2013, which sets the start of the live shows. They play throughout all northern Italy, sharing the stage with internationally known artists such as Don Airey, Will Hunt, Arthemis, Hell In The Club, Rain, Headless and Sandness. In 2016 they record the first LP, "Never Too Late", produced by Street Symphonies Records, receiving positive reviews from all around the world. At the moment, the band is working on the next record, while the live and promotional activity goes on constantly in Italy and neighbouring countries.

Jul
25
Thu
Music in the Mountains

@ Castell de la Solana
Jul 25 @ 7:30 pm – 8:30 pm