Click here for event news
Jun
15
Fri
Andalusian Horse Show and Flamenco Evening
Andalusian Horse Show and Flamenco Evening Friday 15th June
Enjoy a memorable Spanish night out at Viva Espana in Oliva with a horse show, 
followed by a meal and flamenco.
48€ adults/30€ children (12 years and under) 
(price includes 3 course meal including 1/2 bottle wine)
FUTURE TRIPS
Benidorm Market and theme parks Full Day Sunday 17th June
Choose from 3 drop off points:
Benidorm market, Mundomar or Terra Mitica.
17€ adults/13€ children (12 years and under)
The Fogueres de Sant Joan Fiesta Evening Wednesday 20th June
We drop you in the centre of Alicante leaving you the evening to explore. 
20€ adult
Guadalest & Algar Falls Full Day Monday 25th June
Spend an hour and a half at the Algar Falls before moving on to Guadalest. 
18€ adults/14€ children (12 years and under)
*Entrance to Algar Falls is an additional 3€
adult/1.50€ children, payable on entry
See more abut Guadalest here (inc. video preview) 
Please do contact Bus2 if you wish to book,  or click on the website or Facebook link below for more information.
Jul
13
Sat
Alchemy at Bar Quo Vadis

@ Quo Vadis
Jul 13 @ 8:30 pm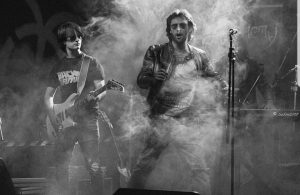 The rock band Alchemy rises from the ashes of Marcello Spera (lead vocals and rhythm guitar) and Cristiano Stefana's (lead guitar) past musical experiences, joined by Matteo Severini (drums), Matteo Castelli (bass) and Andrew Trabelsi (keyboard). The band records its first EP, "Rise Again" in April 2013, which sets the start of the live shows. They play throughout all northern Italy, sharing the stage with internationally known artists such as Don Airey, Will Hunt, Arthemis, Hell In The Club, Rain, Headless and Sandness. In 2016 they record the first LP, "Never Too Late", produced by Street Symphonies Records, receiving positive reviews from all around the world. At the moment, the band is working on the next record, while the live and promotional activity goes on constantly in Italy and neighbouring countries.