Click here for event news
Oct
16
Fri
The Pedreguer International Organ Festival takes to the streets in its XXIV edition
Oct 16 @ 8:30 pm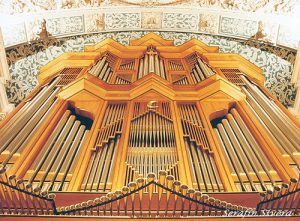 Pedreguer celebrates its XXIV International Organ Festival in the streets. The music will go beyond the walls of the Church of the Holy Cross and will tour the municipality of La Marina in a totally unique edition that has been adapted for the health emergency.
It will take place on Friday, October 16th at 8:30 p.m. In Plaça Major, with a giant screen, sound and recording equipment and seats will be installed in such a way that the social distance required by current health regulations is respected.
The concert, entitled "Musiques per a temps d'incertesa" will feature the performance of the Choir and Ensemble of La Rectoria, led by Pepi Lloret (soprano), Lola Ribes (alto), Àlex Velázquez (piano) Vicent Giner al organ and under the direction of Jaume Morell; They will perform a repertoire of sacred and secular music and a selection by Carl Orff, author of the well-known piece Carmina Burana .
Before the great concert, others will be held previously inside the church. On Friday, October 2, at 8:30 p.m., the festival will be inaugurated by the Brass Academy Alacant Trumpets with symphonies and fanfares with six trumpets and the music of the organ by Josep Vicent Giner. The program includes works by Vivaldi, Händel, Haydn and Jazz classics.
On Friday the 9th, also at 8:30 p.m., Santiago Juan, Vicent Ballester and Josep Vicent Giner will perform variations and concert fantasies for violin, guitar and organ; playing works by Boccherini, Carulli, Paganini and Albéniz.
The entrance to each of the three concerts of the festival has a cost of 15 euros and the capacity of the temple is limited. To attend the broadcast at Plaça Major on the 16th, it is necessary to reserve the seat, which has a cost of 10 euros. Tickets can be purchased at the Municipal House of Culture of Pedreguer from 11am to 2pm (Glorieta de la Creu, 14). On Sundays it is closed.