Click here for event news
Feb
22
Sat
Carnival in Moraira

@ Moraira - See Programme Below
Carnival Night in Javea
Feb 22 @ 5:00 pm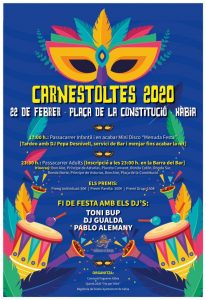 Get ready with the costumes,  carnival is almost here.
Music, parades and prizes for the best costumes
Saturday, 22nd February
As in every year, there will be two celebrations, one in the afternoon which is specially designed for children and another at night, focused on adults.
The evening party is usually a family affair and there are many adults who come in costume to enjoy it with the children. That is why the organisation has thought of, in addition to the "mini-parade", to continue with an afternoon with music, bar service and food until the adult parade time.
The carnival will begin at 5 pm with the children's parade, which will leave from C/Buenaire, go through the north and south and will end in the Plaza Constitución. There the party will continue with the music and animation show 'Menuda Festa' . Then DJ Pepa Desnivell will take over, who takes the reins of the afternoon schedule.
At 23:30 hours the adult parade will begin, with the same itinerary as the children's one, during which there will also be prizes for the best individual, couple and group costumes. Registration for this contest will be held at the bar on the same day of the parade until 11 pm.
The evening ends with a discomóvil with Toni Pub, DJ Gualda and Pablo Alemany. The carnivals also have the collaboration of the Quintà of 2020 'Tot per l'aire' .
Carnival Night in Denia
Feb 22 @ 5:30 pm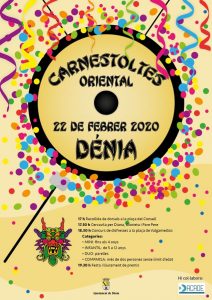 Get ready with the costumes,  carnival is almost here.
On Saturday afternoon, February 22, Carnival returns to Dénia. The proposal of the Department of Festivities this year is the East, so people who want to participate, small and large, and qualify for the costume contest prize, have to have this reference as inspiration for their dress.
As for the location of the party and the awards ceremony, it will take place in the Plaza de Valgamedios.
The parade will begin at 5.30 pm, from the Plaza del Consell, where registrations for the costume contest can be formalized. The entourage will travel Diana, Glorieta and Pare Pere, to Valgamedios (expected arrival at 6.30 pm).
The contest categories are as follows:
– Mini (up to 4 years)
– Infant (from 5 to 12 years)
– Duo (groups of two people without age limit)
– Comparsas (groups of 3 or more people without age limit)
The awards ceremony will take place at 7:30 p.m. Collaborate, with the gifts for the winners, the association ACADE.