Click here for event news
Sep
26
Thu
Valencia or Valencia Biopark with Bus 2
Sep 26 @ 9:00 am – 5:00 pm
Valencia or Valencia Bioparc        
A chance to visit the wonderful city of Valencia, the home of Paella! The centre itself is compact which is perfect for exploring. Wander through the Old Town and marvel at the food in it's famous Indoor Market!
There are plenty of great shops too, including the new Primark by the Bull Ring-It's the second largest in Spain.  Or you can spend the day at the Bioparc, which is rated in the Top Ten Zoos in the world by Tripadvisor.
We also drop off at the City of Arts and Sciences and the Oceanagrafic. There really is something for everyone! We will be arriving approx 11am  and you have free time until we leave at 17.00. Choose from 4 drop off points: City of Art & Sciences, Torres de Serranos for the old town, Calle Colon for all the shops or Bioparc.
25 € adults/12 € children (12 years and under).   *price does not include entrance tickets 
CLICK THIS LINK TO SEE A TASTER OF THE BIOPARK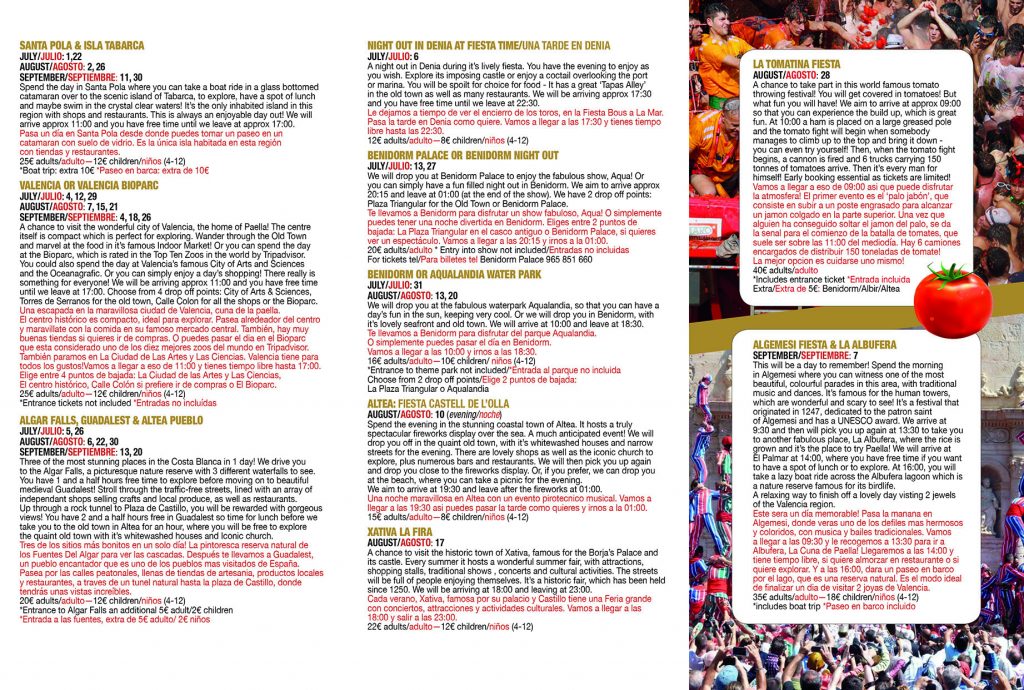 Sep
28
Sat
 Sagunto and an Underground Boat Ride in the Sant Josep Caves with Bus 2
Sagunto and an Underground Boat Ride in the Sant Josep Caves       
An interesting day trip firstly to Sant Josep caves for a 40 minute boat ride on the longest underground river in Europe! The temperature throughout the year is a constant 20 degrees. Photos do not do this boat trip justice!  And then it's off to  Sagunto, with it's wealth of  history dating back 2000 years. During it's Roman period, it was besieged by Hannibal and there are castle ruins and a Roman Amphitheatre to explore.
 40€ adults/25€ children (12 years and under)*Includes 45 min boat  tour of caves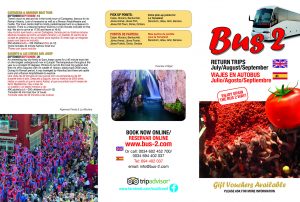 Sep
30
Mon
Santa Pola and Island of Tabarca with Bus 2
Sep 30 @ 9:00 am – 5:00 pm
Santa Pola and Island of Tabarca       
Spend the day in Santa Pola from where you can take a boat ride in a glass bottomed catamaran over to the scenic island of Tabarca for an explore and a spot of lunch. It's the only inhabited island in this region with shops and restaurants. This is always an enjoyable day out! We will arrive approx 11.00  and you have free time until we leave at  approx 17.00
€25 adults/€12 children (12 years and under) *Extra 10€ to visit the Island of Tabarca 
READ MORE ABOUT TABARCA- WATCH A VIDEO TASTER HERE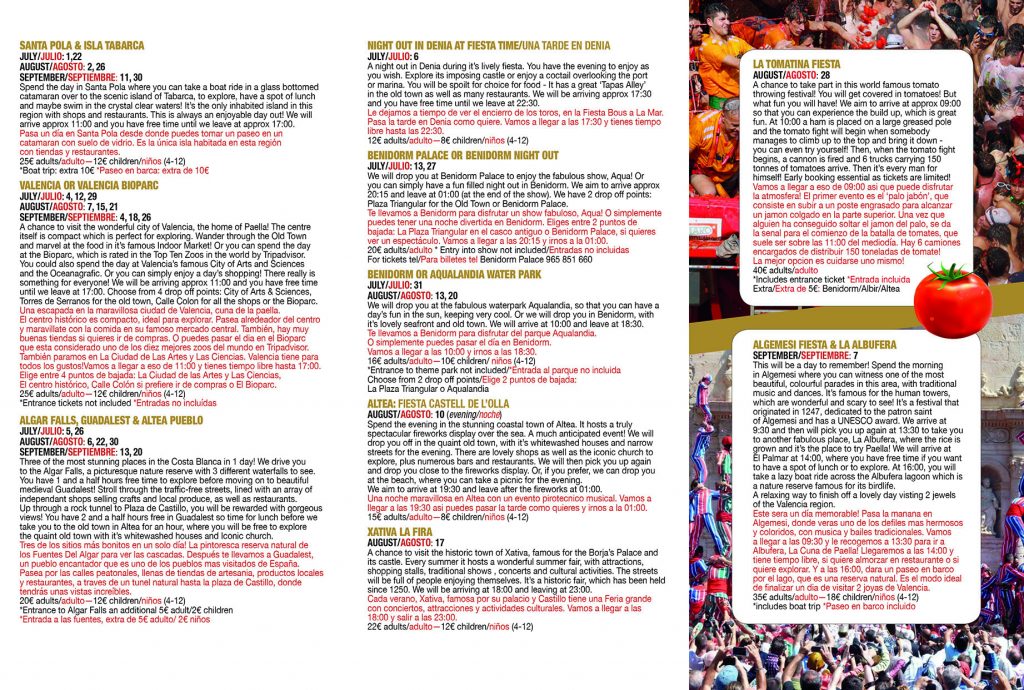 To see all tours arranged by Bus 2 Click this link