Click here for event news
Sep
22
Tue
Quiz Night at Bull and Bear

@ Bull and Bear
Sep 22 @ 8:00 pm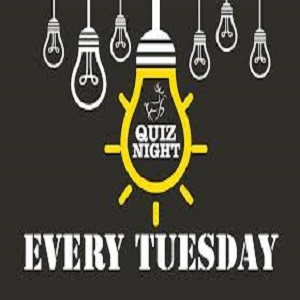 Regular fun quiz night with Suzi and Anne
Starts at 8pm. ( Max 6 per team)
Special meal deal every week.
Big Rob's L'il Quiz at The Hilltop

@ Hilltop Gastro
Sep 22 @ 8:30 pm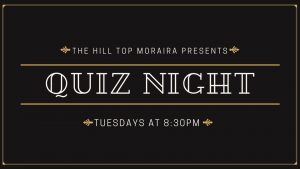 Big Rob presents a great regular fun quiz starting at 8.30 pm 
Delicious food available all day until 10pm.
Only 2 euros per person to enter so get a team together and get that grey matter working, plus have a few laughs at the same time.  😀
Sep
23
Wed
The Wednesday Quiz at Cafe Cortado's

@ Cafe Cortado's
Sep 23 @ 6:00 pm – 8:00 pm
Those of you who know little Debbie Clarke, the owner of Cafe Cortado's  in the port, will know that she tirelessly keeps coming up with new ideas to support lots of local charities in Javea.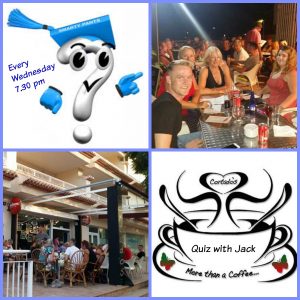 The quizzes are not only good for those wishing to pit their wits against rival teams but that is was a damn good laugh too.
So get yourselves a team together, or just turn up alone and Debbie will make sure you meet a few like-minded people to play with. A brilliant selection of drinks, coffees and smoothies, plus you having fun also puts some money in the coffers of a local charity.
You can find Cortado's at
603828445 – To book a table (recommended!)
Quiz Night at Father Ted's

@ Father Ted's Bar
Sep 23 @ 7:00 pm