Click here for event news
Sep
25
Wed
Art Fair at Salon Canor

@ Salon Canor
Sep 25 @ 10:00 am – 4:00 pm
Sep
28
Sat
Circus Festival in Denia

@ See Below
Sep 28 @ 7:00 pm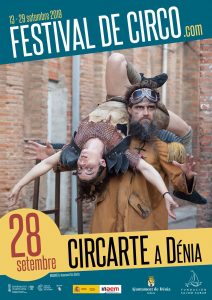 The Teatre Arniches of Alicante has hosted the presentation of the tenth edition of Circarte , which will take place from September 13 to 29, 2019 in six municipalities in the province of Alicante, one of them being Dénia.
For this year's edition, Circarte has prepared about thirty proposals between shows, workshops and parallel activities by 25 companies, 60 artists and groups from Alicante, Murcia, Andalusia, Madrid, Galicia, Castilla, Zaragoza, León, France, UK, Holland or Belgium. Almost three weeks full of shows and parallel activities that will start in El Campello on the 13th and will continue in Alicante, Sant Joan d'Alacant, Mutxamel, San Vicent del Raspeig and making a stop in Dénia on September 28.
Dénia will host, in the afternoon of the 28th, two contemporary circus shows. The first will be the show "RAR" of the Balusca company, which can be seen on c/La Vía at 7 pm, with free access.
The second performance will correspond to the show "Aware" of the company Alodeyá Circo-danza, winner of various awards. "Aware" is a Japanese concept that talks about the beauty and importance of the ephemeral, it uses acrodanza, tightrope, Chinese mast and juggling, in combination with live music, to tell stories of encounters and disagreements "Aware" can be seen in the auditorium of the Social Centre, on the same day, September 28, at 8:30 p.m. upon reservation of entry through the Festival's website.
Sep
29
Sun
Tanamera Fundraiser at Cafe Cortado, Javea

@ Cafe Cortado
Sep 29 @ 2:00 pm
Lions Autumn Concert – The Overtones

@ La Senieta
Sep 29 @ 7:30 pm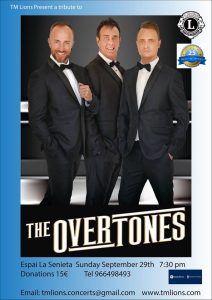 The first Lions concert this Autumn will be held in Espai La Senieta, Moraira, will be on Sunday September 29th and features the fabulous "Overtones" tribute act. This is a tremendous show with great vocal harmonies showcasing music by the Overtones and also features tributes to 3 of the greatest male artists ever to set foot on stage: Elvis, Roy Orbison and Frank Sinatra.
Saturday 29th September at 8pm