Click here for event news
May
17
Mon
Denia Market Day

@ Denia Market
May 17 @ 8:30 am – 2:00 pm
May
19
Wed
Coffee and Connect

@ Hydra Rte
May 19 @ 10:30 am – 12:30 pm
Introduction from Gina Marks
Business Amigo/a's- if you fancy catching up and connecting over a coffee for some business banter and a little networking, feel free to pop in!
Lets connect and see where we can help each other keep positive and generate business.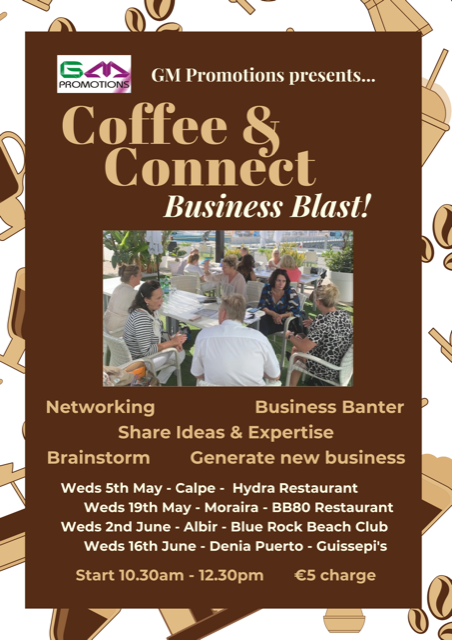 These are different times we are living. Adapting is key! Share your expertise and learn from fellow businesses how they are adapting. Many are finding it challenging to do business as everything is rather low key… But we can still meet for coffee, exchange business advice, tips, ideas and help each other make new connections locally.
So Biz Amigos will you join me?…….. and please tell your friends in biz!
May
21
Fri
Denia Rastro Market

@ Denia Market
May 21 @ 8:30 am – 2:00 pm
Moonshine at Bar Emilio

@ Bar Emilio
May 21 @ 7:00 pm