Rushworth's Upholstery
Rushworth's Upholstery
Specialists in re-covering and re-vitalising the comfy things in your life since 1987!
Rushworth's have been in the "recovery" business in Spain for over 30 years. We have always been a family business and as many people will tell you,  "if you want it right go to Rushworth's."  
All our work is undertaken personally and "in-house" at our local shop, which is open to the public Mondays to Fridays from 9.30 am. until 5.00 pm. and Saturdays from 9.30 until 12.00 pm.
Staff speak English, Spanish and German.
If you have some old but loved furniture that needs some TLC and/or a facelift, we can make the all the following items look like new, as you can see in the gallery later on the page.
Sofas and Suites
Armchairs
Office Chairs
Dining Room Chairs
Lay-Z-Boys
Patio and Poolside Furniture
Headboards
Footstools
Boat and Caravan Seats
Jacuzzi Covers
Chaise Longues
Massage Tables
Cushions
So before you put that piece of furniture on Facebook Marketplace, or take it unwillingly to the basura, have a think... it may just need a little of the Rushworths' Magic!!
For example:-
If It's a Family Heirloom
A sofa/suite has been in your family for a while and has been a prize possession with a history and special sentimental value. There are certain things which are irreplaceable, and you cannot put a monetary value on them.
It May Be Valuable Antique
When you have a piece of furniture that dates back over a century, and you have invested good money in it, reupholstering it makes sense. This is not something that can be replaced new. In this case, by reupholstering, you are actually restoring an antique.
If It Has Good "Bones"
It makes sense to reupholster if your sofa/chair is very high quality or has an unusual frame. Quite possibly, the cost of reupholstering it would be less than buying a new sofa of comparable quality. It is possible you may have a perfectly good sofa that can be brought back to life by just re-covering with a new fabric.
Open 9.30 to 17.00 Monday to Friday and 9.30 to 12.00 on Saturdays
Take a look at just a few photographs of some of the items we have given a new lease of life to during the past few months!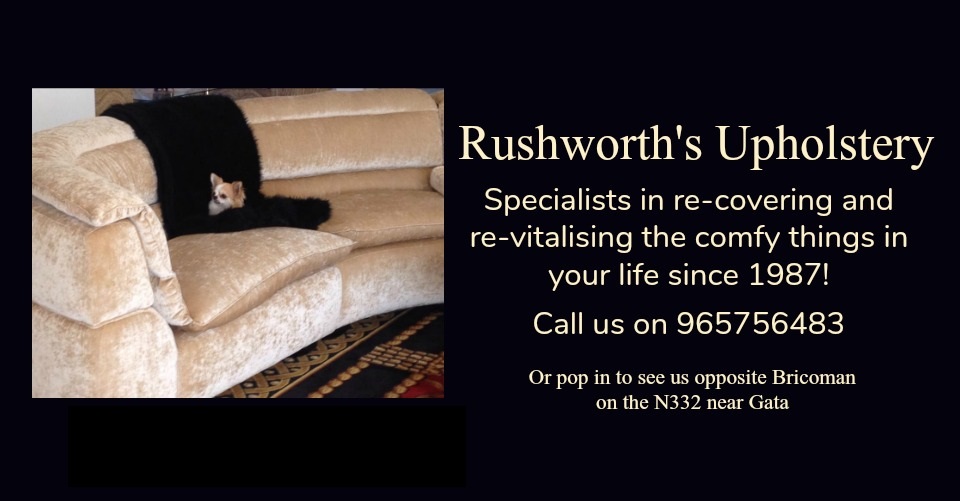 Calle de Ondara 190kms

,

Gata de Gorgos

03740