Cholbi-Mulet Clinical Analysis
CLINICAL ANALYSIS LABORATORIES
Our laboratory has been developing its activity since 1985, offering our services to private patients, clinics and health insurance companies in the Valencian Community, with the Certificate of Registration in the Official Registry of Health Centres, Services and Establishments of said community with the number 02462.
From our beginnings, we have tried to advance at the same rate that needs always required, with the highest degree of quality and guarantee in carrying out the analytical activity, which prevails in our company, for which the laboratory is subscribed to a program of External Quality Assessment ( identification number is 810) as well as internal quality controls. Additionally conducting continuing education courses in the Clinical Analysis Laboratory issued by the Commission of the Ministry of Health and Consumption and the Spanish Society for Clinical Biochemistry and Molecular Pathology, Education Committee.
Furthermore, we do not neglect the speed of delivery of the results as it is a fundamental factor in the diagnosis of the clinician.
Offices in Javea and Teulada
Teulada Tel: 96 574 13 30
Jávea Tel: 96 646 06 58
SAMPLE COVID 19 TEST RESULT SHEET IN DETAIL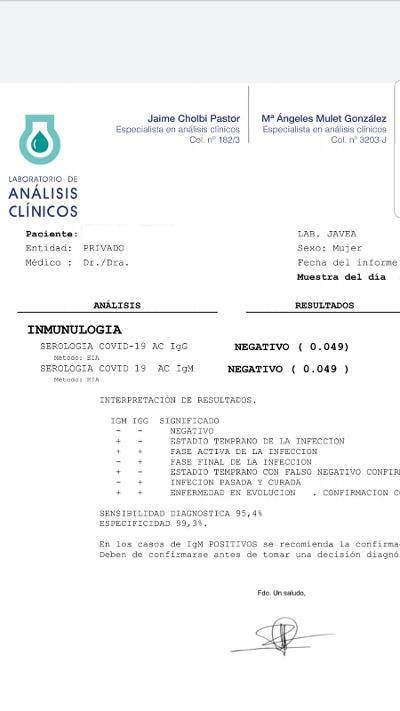 Calle Médico José Pitarch, 8, Teulada, Spain

,

Teulada

03725
Av. de Lepanto, 2, local 7, 03730 Xàbia, Alicante

,

Xàbia

03730