Policlínica CUME
Policlínica CUME
PoliclinicA Cume is a medical centre specialising in health and beauty that has an extensive team of professionals, headed by doctors and cosmetic surgeons, Dr. Freya Belló Lozano and Dr. Eladio Ayala Vicedo.
Our extensive treatments include:-
Hyaluronic Acid Injection
Vitamin Injection
Botox
Fractional CO2 laser
LASER Q-SWITCHED
Dermoroller
Dermabrasion
LED treatment, BLUE FOR ACNE AND RED FOR REJUVENATION
Tattoo Removal
Elimation of Stretch Marks
Stain Removal
Pain Relief Treatment
Acne Treatment
Laser Depilation
Facialand body MESOTHERAPY
Massage with LPG, endermologie
Facial and body RADIOFREQUENCY
Treatment with facial OZONE
Surgery of VERRUCAS, SCARS, EAR-LOBES
Body and facial treatments
Polyclinic CUME offers a wide variety of facial and body aesthetic treatments. Among them, for varicose veins (cryosclerosis and sclerosis with foam), lip augmentation with hyaluronic acid, and the treatment of expression wrinkles (laughter lines) with botox, mesotherapy with factors of own growth (the injection of platelets and vitamins).
Varicose Veins (cryosclerosis and foam sclerosis)
Lip augmentation with hyaluronic acid
Treatment for expression wrinkles (botox)
MESOTHERAPY with own growth factors (injection of platelets and vitamins)
Stretch mark treatment with PLASMA RICH IN PLATELETS AND RADIOFREQUENCY
ANDULATION TREATMENT to balance cells, improve muscle performance, relieve pain or improve sleep.
PHOTON TREATMENT, to mobilise all body water, improve joint and muscle pain and perform detoxification.
BIORRESONANCE – special therapy as a complementary treatment.
We also have vibrating platforms with individual classes and personal training.
Among the laser treatments, we have the Q-Switched carbon laser for the removal of blackheads, acne marks or scars, tattoos and blemishes, and the multi-diode laser for the removal of ruby ​​spots and varicose veins.
For the removal of unwanted hair, we can carry out the IPL hair removal treatment.
Medical Examination for Drivers
Polyclinic CUME also includes, in its facilities,  the Javea Driver Recognition Centre for cars, cranes, working with weapons, dangerous animals, boats and private security.
For driver examinations it is not necessary to bring photographs as they are taken instantly. For the other recognitions it is necessary to bring a photograph.
In addition they can also carry out the direct processing of the driving license.
Opening Hours at The Driver Centre:-
Thursdays from 16:30 to 21.00 at Calle Salvador Salvá, 6, Bajo. Passage Avenida Amanecer, 37, Javea. Map follows.
Normal Business Hours:-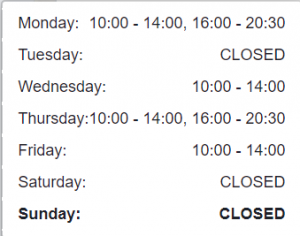 To read more about us and our clinics in both Javea and Alicante, please visit our website and/or Facebook Page via the link below.

ESPANOL
Policlínica CUME  es un centro clínico especializado en belleza y salud que cuenta con un gran equipo de profesionales con la Dra. Freya Belló Lozano y el Dr. Eladio Ayala Vicedo como médicos y cirujanos estéticos.
Tratamientos corporales y faciales
Policlínica CUME ofrece una gran variedad de  tratamientos estéticos faciales y corporales  entre ellos, para las varices (crioesclerosis y esclerosis con espuma), el aumento de labios con ácido hialurónico, y el tratamiento de las arrugas de expresión con bótox, la mesoterapia con factores de crecimiento propios (infiltración de plaquetas y vitaminas).
También realizamos tratamiento de estrías con Plasma rico en Plaquetas y Radiofrecuencia, LPG (masaje para moldear tu cuerpo y mejorar tu circulación con un efecto drenante corporal), ozono y radiofrecuencia para la revitalización facial o Tratamiento ANDULACIÓN para equilibrar las células, mejorar el rendimiento muscular, aliviar el dolor o mejorar el sueño.
Además, también disponemos de tratamiento PHOTON para mover todo el agua corporal y mejorar el dolor muscular y plataformas vibratorias con clases individualizadas y entrenamiento personal.
Entre los tratamientos con láser, disponemos de láser Q-Switched con carbón para eliminar puntos negros, marcas de acné o cicatrices, tatuajes y manchas, y Láser multidiodo para la eliminación de puntos rubí, varices y depilación. También cuentan con IPL para depilación.
Reconocimiento médico para conductores
Policlínica CUME dispone también en sus instalaciones del Centro de Reconocimiento de Conductores Jávea para coche, grúas, armas, animales peligrosos, embarcaciones y seguridad privada. Para los reconocimientos de conductores no es necesario traer fotografías y que ellos las realizan al instante. Por el contrario, para los otros reconocimientos sí que es necesario llevar fotografía.
Además también pueden realizar la tramitación directa del carné de conducir
Los lunes de 17:00 a 20:00h y los jueves de 16:30 a 20:30h en la calle Salvador Salvá, 6,local B2.Pasaje Avenida Amanecer, 37, Javea. El mapa sigue.
INFORMACIÓN DEL CONTACTO
Teléfono: 965792324
Sitio web: ver nuestro sitio
Facebook: visite nuestra página de Facebook
Correo electrónico: [email protected]
Dirección:
C / Salvador Salvá, 6 B2 , Xàbia 03730
C/ Salvador Salvá, 6 B2

,

Xàbia

03730
C/ Ángel Lozano, 15 entresuelo

,

Alacant

03001