Introduction to Silvasol
Silvasol is the leading installation company in the region and a pioneer in Spain in the use of solar energy, a sector of the company that began activity in 1972.
With our factory, warehouse and headquarters based in Jávea (Alicante), we undertake work mainly in the Mediterranean provinces, where most of out clients reside: Institutions, and companies in particular.
At Silvasol, we maintain a line of continuous innovation that allows us to offer the most advanced air conditioning systems and always with important maximum energy savings.
We have at your disposal, a vast amount of resources, both in professional expertise and modern technical innovations, allowing us to undertake any type and size of project. We add to that our solid guarantee of success, bringing peace of mind to all our clients, both during the working contract and after sales care.
To find out more about us and for any further enquiries, please visit our website ( details below)
We Also Provide Energy Certificates
If you rent or sell a home or business premises, avoid the penalties imposed by law and request your Energy Efficiency Certificate from us.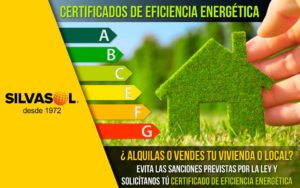 Espanol
Silvasol es la principal empresa instaladora de la región y pionera  en España en el aprovechamiento de la energía solar, sector en el que se inició su actividad en 1972.
Con fábrica, almacén y oficinas centrales en Jávea (Alicante),desarrolla su labor principalmente en las provincias mediterráneas, donde radican la mayoría de sus clientes: Instituciones, empresas y particulares.
En Silvasol, mantenemos una línea de continua innovación que nos permite ofrecer los más avanzados sistemas de climatización, siempre,con el máximo ahorro energético.
Nuestra gran capacidad tanto técnica como humana, nos permite afrontar cualquier tipo de proyecto con plenas garantías de éxito sinimportar la complejidad o envergadura del mismo.
Avenida de Ondara, 14

,

Xàbia

03730