Sandy Tsalikidis writes….."I believe that every child deserves to know the magic of Christmas and again this year we have to find over 100 presents for the children that are from Red Cross Food Bank. These children are below Santa's radar unless we do something to help. We need to raise the money to buy each child just one present each. We would like to do more such as provide them with new slippers or pyjamas as well but to do this we will need your help.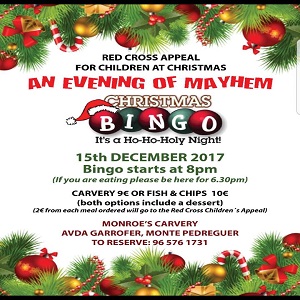 We have organised a very Christmassy event at Monroe's Carvery Pedreguer. Please try and come and support this event. I guarantee you will not only have a good time and help the Red Cross children but you will find the magic of Christmas at the same time. 
Please reserve your table as this event is very popular and sells out quickly.