Charity Auction in Aid of HELP OF DENIA on 24th November, Go along and grab a bargain. You can also donate items to be sold on the day to help raise funds for the charity. Read a little more about them …………..
Help of Denia & Marina Alta is a charity (Reg No 3706)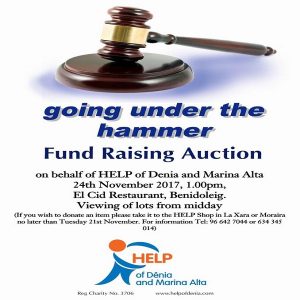 which began in 1984 and is manned entirely by volunteers.
WHAT DO WE DO?
Provide advice, assistance and support to those in need.
Provide neighbourly assistance to people who are ill, disabled or housebound.
Provide a range of medical and home nursing equipment for short term use.
Provide a Help desk and Interpreters at Denia hospital.
Visit English speaking patients in the Denia hospitals.
Support individual carers of family members, by providing them with some respite.
WE CANNOT make financial grants to individuals
WE DO NOT advise on legal, financial or property matters.
WE DO NOT provide continuing care to the chronically ill over extended periods and we are not a substitute for professional nurses or Social Services.
We work in conjunction with other charities, organisations and HELPs in the Marina Alta to give assistance wherever needed.
 HOW CAN YOU HELP?
We are always looking for people who are willing to give their time in a variety of ways.
For example, we need volunteers to:
work in our charity shops, office or equipment store
support our Hospital Help desk and Hospital Visitors
assist in our Activity Centre
be drivers to help with medical visits, etc
visit frail or isolated individuals living alone and provide social contact and support.
to organise or help at various fundraising events held throughout the year.
WHEN DO WE MEET? 
An Executive Committee meets regularly to review existing and identify new activities; and also to monitor income and expenditure.
An Annual General Meeting is normally held in March of each year. Only members of HELP of Denia & Marina Alta are eligible to attend.
A Volunteers Meeting is normally held in October each year, and this is open to both members and guests.